Golden Scots: Dumfriesshire's John Sewell, pulling for gold in Antwerp 1920
Last updated on .From the section Scotland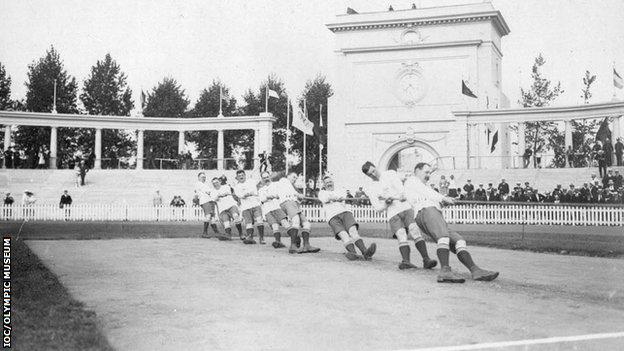 John Sewell remains a Scottish Olympic champion, 92 years after winning his gold medal.
At the Antwerp Olympic Games of 1920, Sewell was a member of the Great Britain team which won a gold medal in tug of war.
Tug of war was then discontinued as an Olympic sport, meaning the 1920 Great Britain team are still, in effect, the reigning Olympic Games tug of war champions.
Tug of war
The inclusion of tug of war as an early modern Olympic sport may seem strange.
The event was known in Ancient Greece in 500BC, where it was practised either as a competitive sport or as an exercise in the physical training for other sports.
Britain had a strong history in tug of war, winning gold in the 1908 and 1920 Olympic Games and silver in 1912.
In the modern Olympics, tug of war was contested between two teams of eight, with one team pulling the other six feet along in order to win.
If the trial of strength remained unresolved after five minutes, the team which had pulled the furtherest was declared the winner.
Early life
Sewell was born at Halfmorton in Dumfries and Galloway in 1882.
In Britain, members of the police force were at the forefront of the sport.
He became part of the City of London Police tug of war team, which had won already gold at 1908 London Olympic Games, held at White City.
In 1908, British teams took all three tug of war medal positions with the City of London Police, Liverpool Police and Metropolitan Police K Division.
Stockholm 1912
By now, Sewell was an established member of the City of London Police team which travelled to Stockholm for the 1912 Olympic Games.
With the non-appearance of Austria, Bohemia and Luxembourg, the tug of war was a two-team event with only Sweden and Great Britain taking part.
Sweden, represented by a team from Stockholm Police, took the gold, winning a single 'best out of three' competition.
Sewell collected his first Olympic Games medal, a silver, as a member of Great Britain team.
Antwerp 1920
In 1920, five nations contested the Antwerp tug of war event: Belgium, Great Britain, Italy, Netherlands and the United States.
With a team made up from former and serving members of the police force, Great Britain took the gold medal with apparent ease, winning all six of their pulls.
After the 1920 games, tug of war was removed from the Olympic programme when the organising committee decided too many sports were being contested.
After Antwerp
Clearly enjoying strength sports, Sewell was also British heavyweight champion in Cumberland and Westmoreland wrestling, winning his first title in 1907.
Sewell continued to hold his title for four consecutive years, between 1907 and 1911.
John Sewell died in Cambridge in 1947, aged 65.
Controversy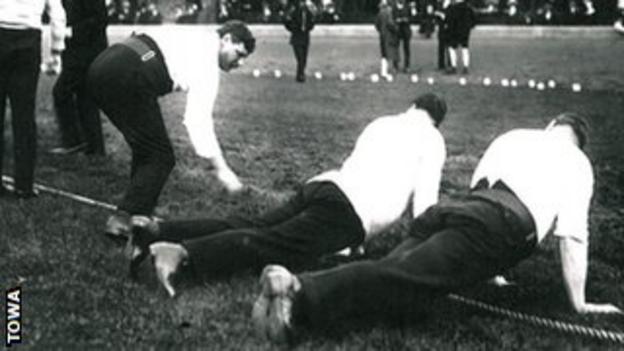 As an Olympic event, tug of war had a contentious history, which may have contributed to its end.
At the 1908 Olympic Games, there was controversy over the footwear worn by Liverpool Police team who "... were wearing enormous shoes, so heavy in fact that it was only with great effort that they could lift their feet from the ground".
The team from Liverpool insisted this was their regulation police footwear and, despite the rules banning ''prepared boots or shoes with any protruding nails'', an American protest was over-ruled and the Liverpool Police team won the pull easily.
In 1920, Sewell's winning team had initially included Robert Spear who was barred and substituted for being 'too aggressive' after he jerked the rope and pulled an opponents arm out of the socket.
Milestone
Earlier in Olympic history, tug of war also played its own small part in a significant milestone.
In 1900, Constantin Henriquez de Zubierathe was part of the France tug of war team which finished behind a combined Sweden/Denmark side.
He was the first black athlete to compete in the Olympic Games and would go on to win two medals: silver in tug of war and gold as part of the French rugby union team.
Golden Scots
A Scot had already taken home a gold medal in a strength sport, Launceston Elliot in 1896.
Also winning gold at Antwerp was Paisley's William Peacock, a member of the water polo team.
Find the stories of other Golden Scots via this link.