Who are the Golden Scots?
Last updated on .From the section Scotland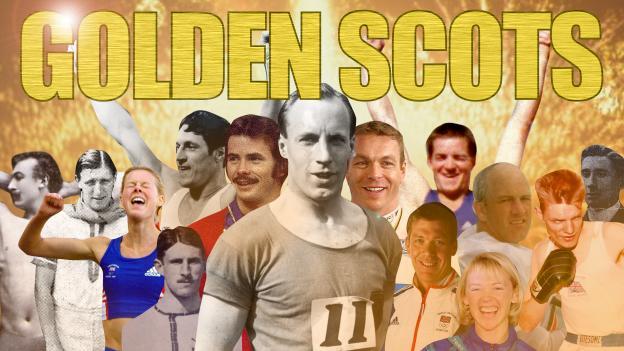 Since 1896, 27 Scottish sportsmen and women have won Olympic Games gold medals. How many could you name?
Athletics
Arthur 'Archie' Robertson took gold in the 'three-mile team race'.
Henry Macintosh triumphed as part of the GB 4 x 100m relay team.
Eric Liddell, an inspiration for today's Olympians.
Allan Wells won men's 100m gold at Moscow in 1980.
Rowing
Angus Gillan double gold in an Edwardian eights crew.
Philip Fleming, uncle of 007's creator, Ian Fleming.
William Kinnear, the best single sculler in the world.
James Macnabb, the clan chief who won gold in Paris.
Richard Budgett rowed with Steve Redgrave in 1984.
Andrew Lindsay, the Skye boatman who won gold.
Sailing
Thomas Glen-Coats, the yacht 'Hera' and Olympics on the Clyde.
Rodney Pattisson, double gold, but is he a Scot?
Michael McIntyre won 'gold, gold, gold!' on choppy waters at Seoul.
Shirley Robertson, more than 'a blonde in a boat'.
Swimming and water polo
Isabella Moore, the youngest British woman to win gold.
George Cornet, double gold water polo player.
William Peacock won gold for Paisley.
David Wilkie brought home Olympic gold in 1976.
Weightlifting and tug of war
Launceston Elliot Great Britain's first Olympic gold medallist.
John Sewell remains an Olympic champion 92 years on.
Boxing
Dick McTaggart brought stylish gold to Dundee in 1956.
Cycling - track
Chris Hoy, multiple medallist inspired by E.T. the Extra-Terrestrial.
Equestrian
Douglas 'Duggie' Stewart helped win Britain's only 1952 gold.
Hockey
Veryan Pappin, the last-minute substitute who won gold in hockey.
Pentathlon
Steph Cook won the inaugural women's modern pentathlon at Sydney.
Shooting
Robert Murray hit the target in small-bore shooting.