Golden Scots: Shirley Robertson, blonde in a boat
Last updated on .From the section Scotland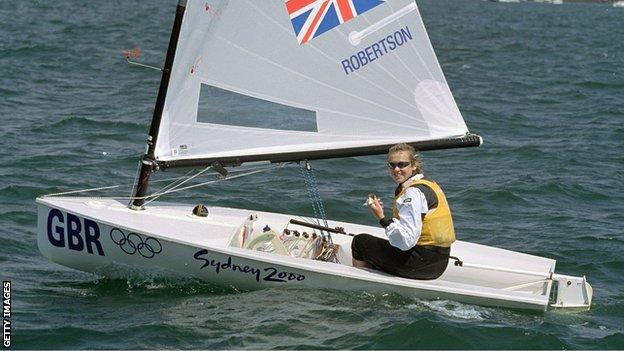 Shirley Robertson secured her place in Olympic Games history by becoming the first British woman to win two gold medals at consecutive games.
Born in Dundee in 1968 and brought up in Menstrie, Robertson's sailing career began when her father assembled a Mirror Miracle dinghy from a kit in the family garage in Clackmannanshire.
From the age of seven, early ventures on the water were at Loch Ard in the Trossachs.
She says herself she was "a determined child" despite, at her first-ever regatta on Linlithgow Loch in her teens, recalling that she spent half the race turned upside down.
Her sailing career began in earnest in 1990 when she graduated in recreation management from Edinburgh's Heriot-Watt University.
Her first Olympic Games appearance was in Barcelona in 1992 where, as a comparative novice, she finished ninth in the women's single-handed class.
The regatta of the Atlanta Olympic Games in 1996, held at Lake Lanier in Georgia, found Robertson initially well-placed for a medal.
However, the standard of competition meant a poor performance in a couple of races led to her falling down the rankings and missing out on a bronze medal by just two points.
Her career built steadily. In 1998, 1999 and 2000 she was winning medals in the World Sailing Championships as a solo sailor.
Sydney 2000
At the millenium Olympic Games, Sydney 2000 Robertson became the first Scottish woman to win an Olympic gold in an individual event, when she sailed her Europe class yacht to victory in Sydney Harbour.
Robertson led from the start, but was pushed hard by Margriet Matthysse of Holland. The Scot had secured the silver medal but needed to finish at least fourth on the final day to win gold.
Ultimately, Robertson's famed determination shone through and she managed a fighting third place to achieve her long-held ambition of Olympic gold.
Athens 2004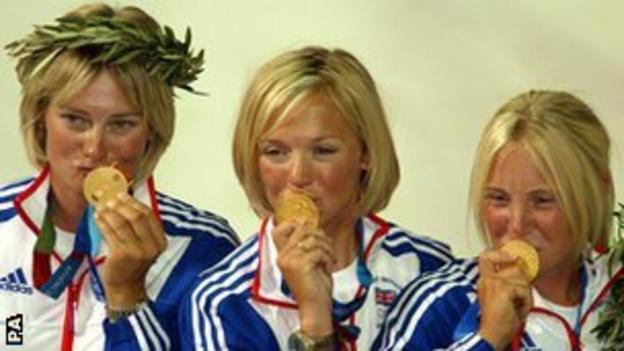 After Sydney, Robertson changed her discipline, seeking a fresh challenge by moving from a solo sail to the small, fast and three-crew Yngling class.
Between Sydney and the 2004 Athens Games, Robertson and her teammates Sarah Ayton and Sarah Webb moved steadily up the world rankings.
Becoming almost universally known as the "three blondes in a boat", Robertson, Ayton and Webb clinched the gold medal over teams from Denmark and Ukraine a day to spare.
At the Agios Kosmas Olympic Sailing Centre, in an interview with The Guardian, Robertson said, "I'm overwhelmed that we managed to put it all together. I can't praise the other two enough. I'm only the driver; I steer the bus."
Ayton and Webb were quick to acknowledge the integral role played by Robertson "Shirley has been absolutely fantastic."
After Athens
Following the 2004 Olympics, Robertson took time off to spend with her family, giving birth to twins in 2006.
She now lives in Cowes on the Isle of Wight.
She was a member of the BBC sailing commentary team at Beijing in 2008 and now presents CNN International's sailing programme "Mainsail".
Shirley Robertson was named female World Sailor of the Year by the International Sailing Federation in 2000. She was awarded an MBE in 2000 and an OBE in 2005.
Golden Scots
At Sydney in 2000, Robertson joined fellow Scots Steph Cook (women's pentathlon) and Andrew Lindsay (rowing, coxed eights) in bringing home gold.
In 2004, it was Chris Hoy who triumped on the cycle track to join her as a Golden Scot.
Find the stories of other Golden Scots via this link.