Golden Scots: Michael McIntyre wins 'Gold! Gold! Gold!'
Last updated on .From the section Scotland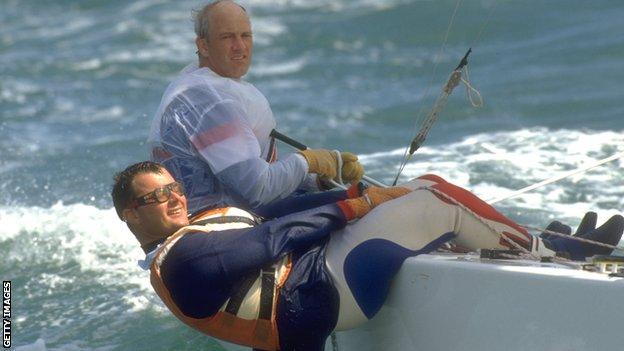 A nail-bitingly close finish on Seoul's Han river brought Helensburgh's Michael McIntyre a gold medal.
McIntyre (at the rear, above) and his partner, Philip Bryn Vaile, were competing in the 'mixed two person keelboat' or Star event.
In a contrast to today's intensive preparations, both Vaile and McIntyre were still working full-time and sailing together only at weekends.
They attributed their success to the intense focus they brought to each session of the two-day event at Seoul's Misari regatta course.
Early days
Before his introduction to sailing, McIntyre had been a keen swimmer and was a Scottish Schools champion at 12.
With his family living in Helensburgh, McIntyre was ideally situated to explore a new-found interest in yachting and sailing. He quickly discovered an aptitude for the sport.
After several years of training, McIntyre first competed in the 1984 Los Angeles Olympic Games when he finished seventh in the single-handed Finn Class.
Four years later at the 1988 Seoul Olympic Games, McIntyre was to compensate for finishing outwith the medal positions in 1984.
Seoul 1988
September 1988 found McIntyre and Vaile sailing at Busan, close to Seoul. The location of the Olympic regatta was to prove key to their gold medal success.
Busan was chosen as an area of reportedly light winds. However, Olympic history records the Seoul Games as one of the windiest ever, with one day of racing having to be posponed entirely due to too much wind.
Sailing was clearly affected, with huge swells, damage to equipment and near loss of life.
In an extremely close contest, McIntyre and Vaile needed to win their final race with the American team of Mark Reynolds and Hal Haenel finishing in sixth place or below.
The Britons won and, with the American team forced to retire with a broken mast, the gold medals were claimed by McIntyre and Vaile.
"It was only when the sailing journalist Stuart Alexander started shouting at us "GOLD! GOLD! GOLD!" from the press boat we knew we'd done it", McIntyre said.
During the Star event, a sudden increase in wind speed threw the two-man Singapore crew overboard. They were injured and could not right their boat.
Canada's Laurence Lemieux, competing in the Finn category, abandoned his second place to rescue and ensure the safe transfer of both sailors.
He later received the Pierre de Coubertin Medal for his sportsmanship.
After Seoul
The American Mark Reynolds went on to win gold in the Star class at the Barcelona 1992 and Sydney 2000 Olympic Games. Haenel also won gold at Barcelona.
Mike McIntyre now lives in the south of England, but retains his links with Scotland as honorary president of Helensburgh Sailing Club. His daughter, Gemma, is also a keen sailor.
He recently made a nostalgic return to the Star class in the Skandia Sail for Gold regatta, held on the Olympic course at Weymouth in Dorset.
Golden Scots
Another Scot to win gold in Seoul in 1988 was the men's field hockey reserve goalkeeper, Veryan Pappin.
Find the stories of other Golden Scots via this link.