Golden Scots: Sir Chris Hoy, master of the velodrome
Last updated on .From the section Scotland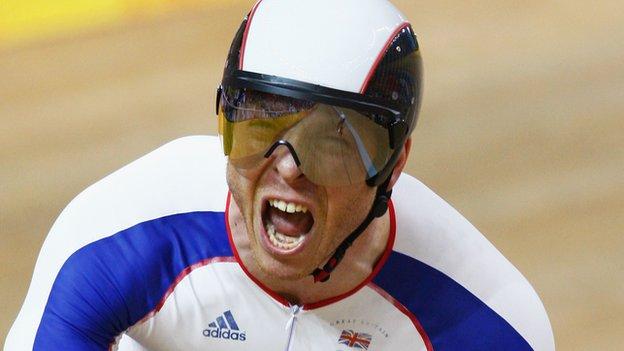 Quadruple Olympic track cycling gold medallist Sir Chris Hoy is the most successful Olympic male cyclist of all time.
He is also the first Briton to win three gold medals in a single Olympic Games since Oldham swimmer, Henry Taylor in 1908.
Early days
Born in Edinburgh in 1976, a young Hoy developed an interest in cycling when he watched Spielberg's 1982 blockbuster movie, ET: The Extra-Terrestrial.
As his mum, Carol, told BBC News in April 2012, the future Olympian's first wobbling ride was on a second-hand girl's bike, passed on by a neighbour.
From this seemingly less than promising start grew a truly great Olympic career.
Hoy graduated from a girl's bike, becoming BMX Scottish Champion at the age of 14 and ranked second in Britain and ninth in the world.
Also, as Hoy was beginning to grow and develop, the 1986 Commonwealth Games were held in Edinburgh.
Although widely considered to be a financial disaster, an unexpected bonus from the Games came through the resurfacing of the velodrome in Meadowbank Stadium.
This enabled Scotland to make the leap to become one of the top track cycling nations in the world. despite its comparatively small size and lack of cycling heritage.
Hoy and Craig McLean became two of the best track cyclists in the world. Both were introduced to the sport on the open air track in the east of Edinburgh.
Hoy said: "The Dunedin Cycling Club had their training down there on a Friday night and I thought I would give it a go. I quite liked it and put my name down to borrow a bike for the following season."
Aside from a place to practise their sport, many athletes need a figure to whom they can aspire and the young Hoy was no different.
Role models
For young Scottish footballers role models are many, but for aspiring cyclists, Scottish champions were, at that time, few and far between.
It was fortunate then that Graeme Obree was at his peak when the Hoy made his first circuits of a cycle track.
Hoy said: "I remember watching a TV documentary about the Chris Boardman and Graeme Obree rivalry and finding it fascinating.
"There was Graeme Obree training in his backyard and Chris Boardman in a laboratory with technical back-up and psychological support. The whole thing just captured my imagination at that stage in my life."
He said: "He (Obree) took on cycling legends like Eddy Merckx and beat their times against the clock."
The admiration goes both ways. Obree said of Hoy: "What he has achieved is remarkable. He is Scotland's first Olympic champion in 24 years."
International success
From small beginnings in Edinburgh, Hoy has exploded on to the international cycling scene.
To date, he has won four Olympic gold medals and a silver, plus a staggering array of World Championship and Commonwealth Games medals.
He holds two Olympic records for the one kilometre time trial, set in Athens in 2004 and the 200m time trial in Beijing 2008.
In addition, he is the current world record-holder for the 500m, set in Bolivia in 2007 and also as part of the 750m team sprint team in Beijing, 2008.
Hoy said, "There is nothing in track cycling to compare with winning the Olympics. It is the be all and end all."
Commonwealth hopes
Although he had to pull out of the Delhi Commonwealth games due to a competition clash, for Hoy the Commonwealth Games are important.
He said: "It is the only time I get to ride for my country."
He added: "It is the only competition where I can wear the blue Scotland jersey and hear Scotland the Brave, if I manage to win an event."
In a recent interview he said, "The ideal swansong would be to have a successful Games in London and then to go on to the Commonwealth Games in Glasgow because I've never actually raced internationally in my home country in Scotland."
Currently under construction, the velodrome for the 2014 Glasgow Games will be named in his honour.
Honours
Hoy was BBC Scotland Sports Personality of the Year in 2003 and BBC Sports Personality of the Year in 2008, the year of his triple gold Olympic achievement.
Recognition also followed his successes on the cycle track. Hoy was knighted in 2009 and holds honorary doctorates from the Universities of Edinburgh, Heriot-Watt and St Andrews.
Although Hoy has won everything track cycling has to offer, it is worth noting that, under different circumstances, he could have joined the list of Scotland's Olympic rowing gold medallists.
As a student at George Watson's College in Edinburgh, he rowed for Scotland as a junior, winning a British Championship silver medal in the coxless pairs. He was also part of the school's rugby team.
In June 2012, Sir Chris Hoy was selected as part of the British track cycling team for London 2012.
He appears to have lost none of his formidable appetite for the sport in which he excels, saying of the GB cycling team, "We just need to keep putting in the hours in training and make sure we're in the best shape possible for race day."