Golden Scots: Robert Murray, an eye for gold
Last updated on .From the section Scotland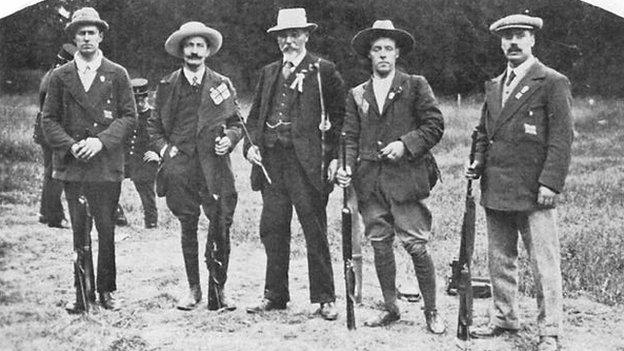 Robert Murray was one of the 38-strong British shooting team which took part in the Games of the Fifth Olympiad, held in Stockholm in 1912.
Born in Edinburgh in February 1870, he competed in three events in small-bore rifle shooting, winning gold as part of the British team in the 50 metre event.
Stockholm 1912
In a sign of the times, for the 1912 Olympic Games the British shooting team was second only in size to the 71 British athletes competing in track and field.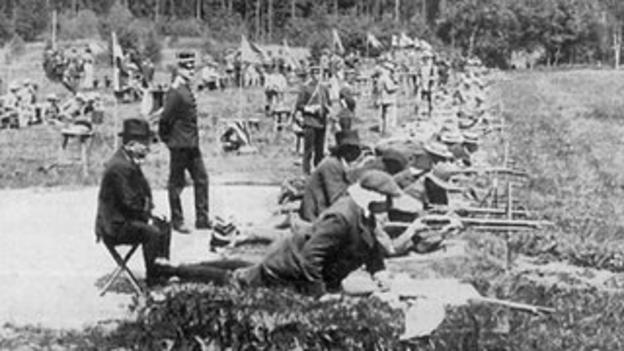 Shooting events were a complex affair of three principal events - shooting with army rifle and shooting with any rifle; miniature-rifle shooting, revolver and pistol-shooting; clay bird shooting and running deer shooting.
Each event was further broken down by size of weapon, static or 'disappearing' target, distance and whether an individual or team event.
On 3 July, 1912 Murray's Olympics got off to the best possible start with the gold medal win in the team small-bore 50m event.
In a six-nation competition, Murray and his fellow team members won gold with a score of 762 out of a possible 800.
Sweden took silver with 748 and USA bronze with 744 points.
The 1912 Olympic Games Official Report recalls fine weather and sunshine, "quite blinding in its brilliancy."
The Report also speaks in complimentary terms about the skills of the British team whose victory, "might almost have been anticipated, for this sort of shooting has long been popular in England. The British team shot very evenly and well."
In subsequent days, Murray recorded a sixth place in the small-bore individual rifle 50 m event and a fifth in the similar 25 m event.
He was awarded two Olympic Diplomas of Merit for the individual events.
After Stockholm
The website Sports-Reference.com records 'Bob' Murray as being the founder of the first small-bore rifle club in Britain and later chairman, secretary, and treasurer of the Rumson Miniature Rifle Club.
Robert Cook Murray died in April, 1948 at the age of 78.
Golden Scots
1912 proved to be a successful Olympiad for Scotland.
In addition to Murray, Angus Gillan and Philip Fleming shared the coxed eight victory. Henry Macintosh, triumphed on the track in the 4 x 100m relay, 'Wally' Kinnear in single sculls and George Cornet won his second water polo gold. Swimmer Isabella Moore also led the 4 x 100m women's relay team to victory in the first Olympic Games swimming events for women.
Find the stories of other Golden Scots via this link.