Golden Scots: Philip Fleming, uncle to 007's creator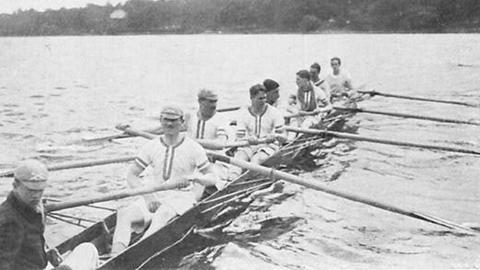 The uncle of James Bond creator Ian Fleming won gold for Great Britain at the 1912 Olympic Games in Stockholm.
Philip Fleming (second from left, above) and his older brother, Valentine, were born in Newport-on-Tay into the wealthy Fleming family.
Born the son of a grocer, their father Robert Fleming had been highly successful in the jute trade.
Fleming, Snr then looked to the USA to invest the profits made from jute and became a noted financier of post-American Civil War reconstruction.
The merchant bank of Robert Fleming and Company, known as Flemings, was founded in 1873 and moved its headquarters to London in 1909.
Despite moving the family business south, Robert Fleming maintained strong ties with Dundee and made many charitable bequests to the city during his lifetime.
In 1968, an office move led to the setting up of the Fleming Collection to showcase Scottish art.
In 2000, Flemings was acquired by the global financial services company Chase.
Early life
Philip Fleming was born in 1889 and educated at Eton College and Magdalen College, Oxford.
He rowed for Oxford in the 1910 Boat Race when the dark blues won by three and a half lengths.
His pursued his interest in rowing, joining the Leander club, based at Henley-on-Thames.
Ian Fleming
Valentine Fleming was killed in action in France in 1917. His obituary was written by his close friend, Winston Churchill.
Ian Fleming, born in 1908, was the youngest of three sons of Valentine and his wife, Evelyn Beatrice Sainte Croix Rose.
Casino Royale, the first James Bond novel was published in 1953 and made Ian Fleming and his creation, Secret Service Special Agent 007 James Bond, famous.
Stockholm 1912
For the 1912 Stockholm Olympic Games, Great Britain entered two coxed eights crews, from Leander and New College, Oxford.
With Fleming in the Leander boat was another Golden Scot, Sir Angus Gillan.
Fleming was acting as 'stroke', a key position, sitting closest to the stern of the boat, facing the cox.
Described as 'human metronomes', the stroke rower sets the stroke rate and rhythm for the rest of the crew to follow.
The huge contribution made by Fleming to Leander's ultimate victory is recorded in the Official Report of the 1912 Olympic Games.
In accounts of the heats, he 'gathered Leander for a final effort' against Canada.
In the semi-final against Germany, "Fleming put his men to a severe test from the bath-house to the bridge, and the determination and speed by means of which Leander drew level with their opponents after one minute's rapid spurt, were simply unique."
The two British crews contested the final. Leander, with Fleming as stroke, "won by about a length in the good time of 6.15" to take gold.
After Stockholm
Like his brother Valentine, Philip also enlisted in the Queen's Own Oxforshire Hussars.
He survived the war and continued his involvement the family banking business, plus wider interests in the City.
In 1951, he founded the PF Charitable Trust, which supports work at community level and to organisations and charities working in a variety of fields.
He lived in Oxfordshire until his death in 1971 at the age of 82.
Golden Scots
Stockholm in 1912 proved to be a vintage year for Scots gold medal winners.
In addition to Fleming, his team mate Angus Gillan shared the Leander crew's coxed eight victory.
Henry Macintosh, triumphed on the track in the 4 x 100m relay, Robert Murray in rifle shooting, 'Wally' Kinnear in single sculls and George Cornet won his second water polo gold.
Swimmer Isabella Moore also shared a team gold in the first 4 x 100m event for women.
At Sydney in 2000, another GB eights crew took gold. That team also included a Scot, Andrew Lindsay.
Find the stories of other Golden Scots via this link.