Golden Scot Dick McTaggart: boxing in his blood
Last updated on .From the section Scotland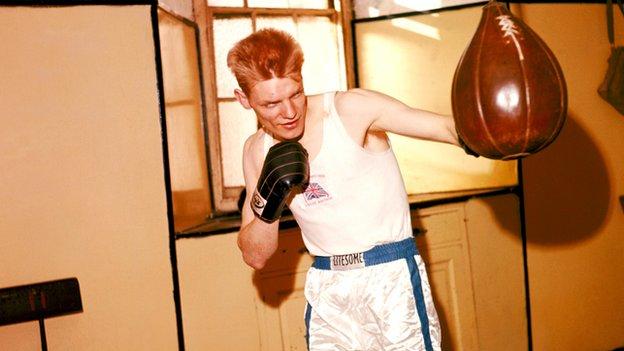 When Dick McTaggart punched his way to gold in 1956, boxing was in his family's blood.
Post-war National Service offered three McTaggart brothers an opportunity to shine in the boxing ring, an arena in which they excelled.
In 1954, one brother was the army Middle East boxing champion, another was Navy champion.
Richard 'Dick' McTaggart completed the set by becoming RAF champion.
Early life
Born in Dens Road, Dundee in 1935, McTaggart was the third youngest of 18 children.
Between 1945 and 1963, 6,000 of Great Britain's young men were conscripted for National Service every fortnight.
Corporal Dick McTaggart was working as a cook in the RAF when his talent for boxing led to the Melbourne Olympic Games of 1956.
He had considered giving up the sport, but now the sportsman with his distinctive crew cut and white boots headed to Melbourne for the first Olympic Games to be held in the southern hemisphere.
Melbourne 1956
In what was to prove a vintage year for British boxing, McTaggart was one of five amateur boxers who returned home from Melbourne with Olympic medals - Terry Spinks, John McCormack,Tommy Nicholls,Nicky Gargano and McTaggart himself.
McTaggart beat boxers from Ceylon (now Sri Lanka), France and the Soviet Union on points to meet Harry Kurschat of the United Team of Germany in the Olympic lightweight final.
Both the flyweight and lightweight division finals were scheduled for 1 December.
At the age of 18, Terry Spinks took a gold medal in the flyweight division.
In the lightweight final, McTaggart was to collect Great Britain's second boxing gold.
Clearly unaware of the Scot's Dundee origins, the Melbourne 1956 Official Report records that "McTaggart fought in the true English tradition of amateur boxing."
Despite being European champion, Kurschat found McTaggart's lethal right hand difficult to deal with and found himself on the canvas on two occasions in the first round.
According to the official report, Kurschat was "a very good boxer who had to be content with second place."
With his footwork and economy of movement, McTaggart had demonstrated enormous skill and style throughout his Olympic bouts.
He was rewarded with the Val Barker trophy as the most stylish boxer of the Melbourne Games.
Aside from the golds of Spinks and McTaggart, Nicholls was a featherweight silver medallist with Gargano and McCormack both taking bronze in their divisions.
The BBC's renowned boxing commentator Harry Carpenter was to say of the Dundonian, "The greatest amateur I ever saw was Dick McTaggart."
After Melbourne
McTaggart went on to appear in two further Olympics, becoming the first British boxer to compete in three Olympiads.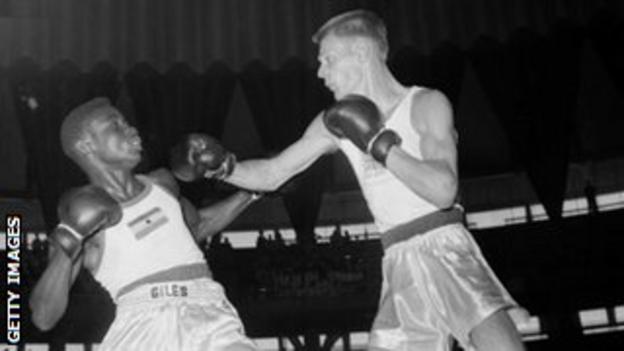 He won a bronze medal at the 1960 Rome Olympic Games, where he was beaten in the semi-final by the eventual winner, Poland's Kazimierz Pazdzior.
Moving up a division to light-welterweight, at Tokyo in 1964 he was eliminated at the quarter-final stage by another Polish boxer, Josef Grudzien, who went on to claim gold.
McTaggart was crowned Commonwealth champion at Cardiff in 1958 and European champion in Belgrade, 1961.
In 1962, he collected a silver at the Perth (Australia) Commonwealth Games.
McTaggart's career at amateur, Commonwealth and European level is staggering.
He won 610 of 634 amateur bouts and is a five-time Amateur Boxing Association champion at both lightweight and light-welterweight.
In recognition of his Olympic victory, he was awarded the MBE and inducted into the Scottish Sports Hall of Fame in 2002.
In 2010, Abertay University awarded one of Dundee's most remarkable sons an Honorary Doctorate of Arts.
Dick McTaggart retired from the ring in 1965. He now lives in Troon and maintains his involvement in the sport which made him famous.
Boxing 2012
Attitudes to boxing have changed since McTaggart's day.
London 2012 sees women boxers taking to the ring and competing for gold for the first time.
This ends the last Olympic sport open solely to men. Team GB includes three women in its boxing squad.
'Dandy Dick' McTaggart may be a hard act to follow, but also in the GB squad for London 2012 is another Scottish lightweight, Josh Taylor.
Taylor's coach has said, "It is amazing to get a Scottish boxer into the team for the London Olympics. Boxing has come a long way since Dick McTaggart but there is no reason why Josh cannot go on to reach the same kind of level."
Golden Scots
Find the stories of other Golden Scots via this link.