Boxing: Billy Nelson primes Ricky Burns for title defence

By Keir Murray
BBC Sport Scotland
Last updated on .From the section Scotland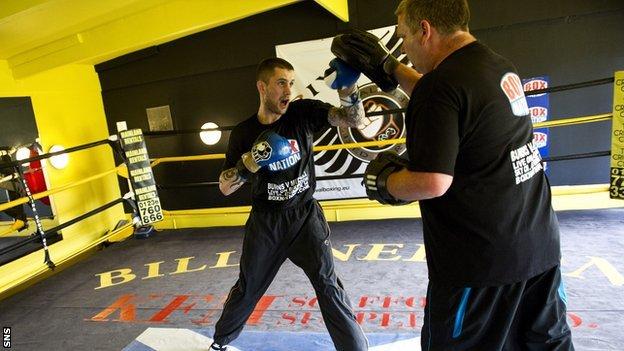 Like his two Alsatian dogs at his Fighting Scots gym in Mossend, Lanarkshire, one suspects that trainer Billy Nelson's bite is worse than his bark.
The burly former amateur boxer does not raise his voice in his half-hour in the ring with his top pupil, Ricky Burns, nor with the dogs as they keep a silent, respectful distance from the press pack.
Trust and mutual respect are evident between trainer and dogs - and trainer and fighter.
Once his session with WBO world lightweight champion Burns is over, Nelson, 44, is pleased to pose for photos with his happy hounds.
It is a moment for him to drop his guard and allow Saturday's title defence against Dagenham's Kevin Mitchell to temporarily drift to the back of his mind.
The gym is Nelson's domain. He moved from premises in nearby Stepps and invested his time and money into the venture. The building is modest but is equipped with all the facilities one would expect to train Scotland's top talent.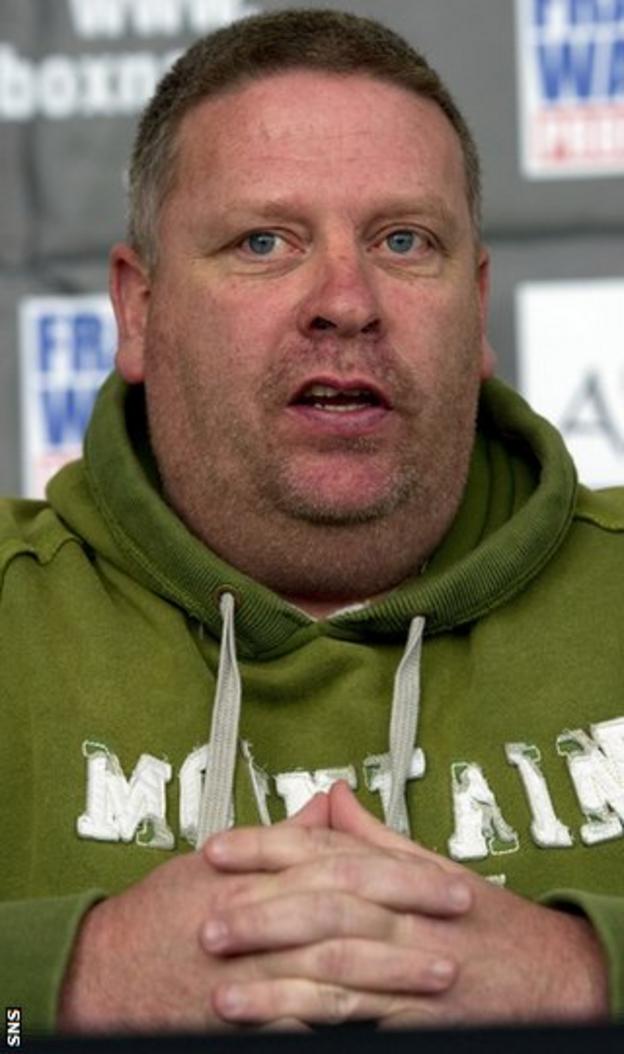 Nelson combined a job as a residential care worker with a 14-year coaching apprenticeship under Scotland's pre-eminent boxing coach Peter Harrison.
In previous interviews he has expressed his gratitude to his wife for her patience while he tried to make a success in two careers.
Success in the ring encouraged him to take the plunge into full-time coaching a few years back but he does not rule out a return to looking after troubled children.
He told BBC Scotland: "I enjoyed my work and it is something I may go back to. You never know what is round the corner."
Nelson is modest about his input into Burns' career since the duo were matched by the boxer's manager, Alex Morrison, five years ago.
"There is nothing unique about me - I just make boxing sound simple," he explained.
"I try to make it sound easy and give the boxer an understanding of what I am looking for.
"I got a great education from Peter Harrison, one of the best trainers this country has ever produced.
"You would need to be foolish not to learn off him, and I did learn a lot off Peter.
"I have added my own things and it seems to have worked, especially with Ricky.
"I also have input from my assistant trainer, John McCarron, and the boxers have an input as well."
Nelson and Burns became a team after the fighter's second defeat of his professional career, to Carl Johanneson in a British super-featherweight title challenge in Leeds in February 2007.
Since then, the duo have celebrated 19 consecutive wins, their success embellished with Commonwealth super-featherweight, WBO super-featherweight and WBO lightweight world title belts.
If the pair are celebrating a score of wins on Saturday, their 12 weeks of training to face Mitchell will have been worthwhile and they can look forward to discussing future bouts with Morrison and promoter Frank Warren.
So what has propelled them to such success?
Burns blushes when asked what makes Nelson a good trainer, knowing he is in earshot.
His response acknowledges the value of Nelson's training drills but west of Scotland sensibilities and a belief in fate prevent him from offering the sort of fulsome praise that might have the corner man rushing for the spit bucket.
"Billy likes to watch my opponents and pick out what they are good at and what their weaknesses are," said the champion.
"When we are doing sparring and doing pad work we will try to put that into my work.
"But everybody who knows me knows I believe that whatever is going to happen on the night, is going to happen."
Nelson insists he had only to "tweak a few things" when he first began work with Burns, now 29.
"He is a great guy, an absolute joy to work with," added the trainer, who thinks Burns could excel as a distance runner were it not for his passion for boxing.
"His dedication is second to none.
"He has very good speed. He was a good trainer, now he is an excellent trainer."
Nelson and Burns do not socialise - their contact is restricted to the gym - but their friendship is evident nonetheless.
There is pride in his voice when Nelson suggests that Burns made the leap from also-ran to world champion "just by realising what was required to reach the next level and the next level again".
Nelson, just possibly, may have had a hand in this.
As for the serious challenge of Mitchell, he warned: "I don't think I've ever seen him up for a fight as much as this. He is approaching his peak.
"I think there are a lot of good fights to come from Ricky Burns yet."