Rangers: Craig Whyte tax question unanswered, says Ally McCoist
Last updated on .From the section Football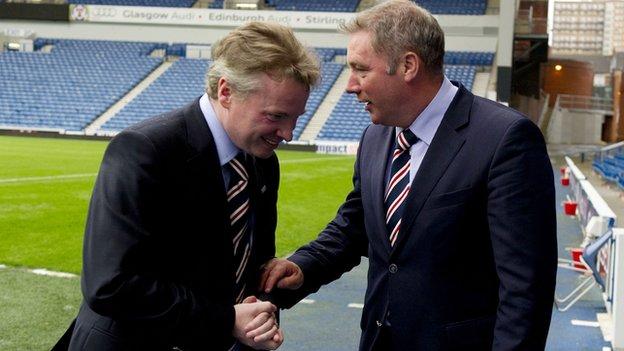 Rangers manager Ally McCoist feels former club owner Craig Whyte left "the real question" unanswered when interviewed by BBC Scotland.
, during which the club entered administration.
could not be averted and the club was relaunched by a group led by Charles Green, now chief executive.
And McCoist said: "Why was there non-payment of PAYE and National Insurance? That, from what I was told, was the reason we went into administration."
McCoist replaced Walter Smith as manager shortly after Whyte bought Rangers' majority shareholding from Sir David Murray in 2011.
But, by the following February, the club had suffered an insolvency event, with Revenue and Customs taking up the matter of unpaid tax at the Court of Session.
Green's bid to take over the Scottish Premier League share owned by Rangers failed and the Ibrox side now play in Division Three.
Whyte insisted he "was driving the train when it crashed, but...didn't set it on its course" and
The outcome of a separate tax dispute relating to Murray's tenure and use of employee benefits trusts is due to be announced soon.
And McCoist said: "I think he's an intelligent man, not to buy a train that's going to crash.
"If I was going to buy a train, I don't think the first one I would buy is one I knew was going to crash.
"If he's going to make his mind up not to apologise to any of the staff here then that's fine. I'm over it."
Another claim by Whyte was the SPL's fore knowledge that Rangers' going into administration was "inevitable".
But McCoist responded: "When did I learn it was inevitable? The day we went into administration. I was never told it was inevitable."
The manager described his relationships with Whyte and Green as "night and day" and believes the club now have people in charge "who have genuinely got the club's best interests at heart".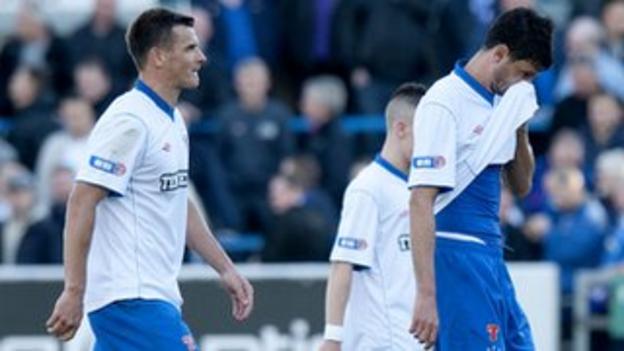 "I honestly believed, if someone like Mother Theresa had taken over our football club, the jury would still have been out because of what had happened before," added McCoist.
"I think the supporters thoroughly deserved answers to their questions before they put their hard-earned cash into the club.
"They are now doing that because they have bought season tickets in quite phenomenal numbers.
"I don't doubt for a minute the jury will still be out with Charles and, indeed, myself as a manager - and I totally understand that.
"I have been down in London and been in meetings and been privy with just about everything. Charles has kept me up to speed with absolutely everything and I am convinced.
"Charles has come in and said he wants to make money, because he's a businessman. But, in doing that, he wants to get the club back to where we firmly believe we should be.
"There isn't a supporter in the land, I believe, that will have a problem with that, as long as the club is looked after and is in a healthy state.
"That is the long-term plan and I believe it will come to fruition."