Irish beat Scots in shinty-hurling
Last updated on .From the section Scotland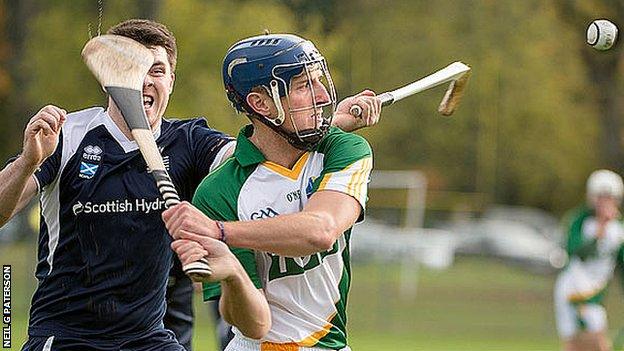 Patrick Horgan scored a hat-trick as Ireland won at Bught Park and took the initiative in the annual shinty-hurling internationals against Scotland.
This year's series introduced a new scoring system with five points awarded for a goal instead of three.
Points available for hits over the crossbar remained the same with two awarded for free or sidelined hits off the ground and one for roll or jab lift free hits and from general play.
Horgan netted twice as the visitors posted 2-6 (16) by half-time and his third took the overall Irish total to 25.
However, two late goals gave the Scots hope ahead of next week's return leg in Ennis.
Kevin Bartlett and Neil Macdonald were on target, with the latter scoring from halfway to give the hosts a closing tally of 19 points.
Ireland, overall winners in each of the last three years, are awarded two points for the win and an additional bonus point for scoring at least twice while Scotland's late brace of goals gives them a bonus point in front of the 2,000-strong crowd.
Although Scotland captain Norman Campbell of Newtonmore failed to taste victory here, he did have the satisfaction of being named player of the year in the annual Marine Harvest Shinty Awards, where Lochaber and Kyles also figured prominently among the leading titles.
Scotland: Stewart Mackintosh, Norman Campbell, John Barr, Donald Irvine, Daniel Cameron, Neil Macdonald, Finlay MacRae, Shaun Nicholson, John Stewart, Keith MacRae, Kevin Bartlett, Louis Munro, Calum Cruden, Mark Macdonald. Subs: Niall Macphee, David Smart, Drew Howie, Steven Macdonald, Stewart Macdonald.
Ireland: Bernard Rochford, Joseph Clarke, Shane Dooley, Cormac Donnelly, Patrick Horgan, Patrick Maher, Neil McManus, Barry McFall, Tom Murnane, Brendan Murtagh, Darragh O'Connell, Eoin Price, Paudi Reidy, Des Shaw. Subs: Ciaran Clifford, Steven Clynch, Shane Fennell, Tommy Walsh.