Imogen Bankier considers medal farewell after Glasgow 2014

By Kheredine Idessane
BBC Scotland
Last updated on .From the section Scotland
Scotland's world badminton silver medallist, Imogen Bankier, says she might retire after the Glasgow 2014 Commonwealth Games - and she's planning to go out with a medal if she does.
to move back to Glasgow, where she feels she can better prepare for the challenges of the Commonwealth Games.
She had hoped to reach a compromise with British badminton and split her time equally north of the border. That request was turned down.
"As far as they're concerned, they want somebody who's six days a week, full-time on the programme down there," she said.
"That's what I've done for the last five years, but I just didn't feel it was going to be the best thing for my badminton any more."
So, fresh from a disappointing Olympic Games, , Bankier is back in her native Glasgow looking for a Scottish partner.
"It's been proven that you can be successful being up here," she suggested.
"I now believe we've got a really strong system here in Scotland, especially with all the new facilities and all the support that's been pumped into the Commonwealth Games.
"So it's an exciting time for me to be back."
Those Glasgow 2014 Games are her next major target and she's aiming for a place on the mixed doubles podium.
If she makes it, she's contemplating retiring, a few months shy of her 27th birthday.
"For me, it would be fantastic to cap off my career with a Commonwealth Games medal," she said.
"It's something I don't have in my armoury as yet and, of course, I'd love that.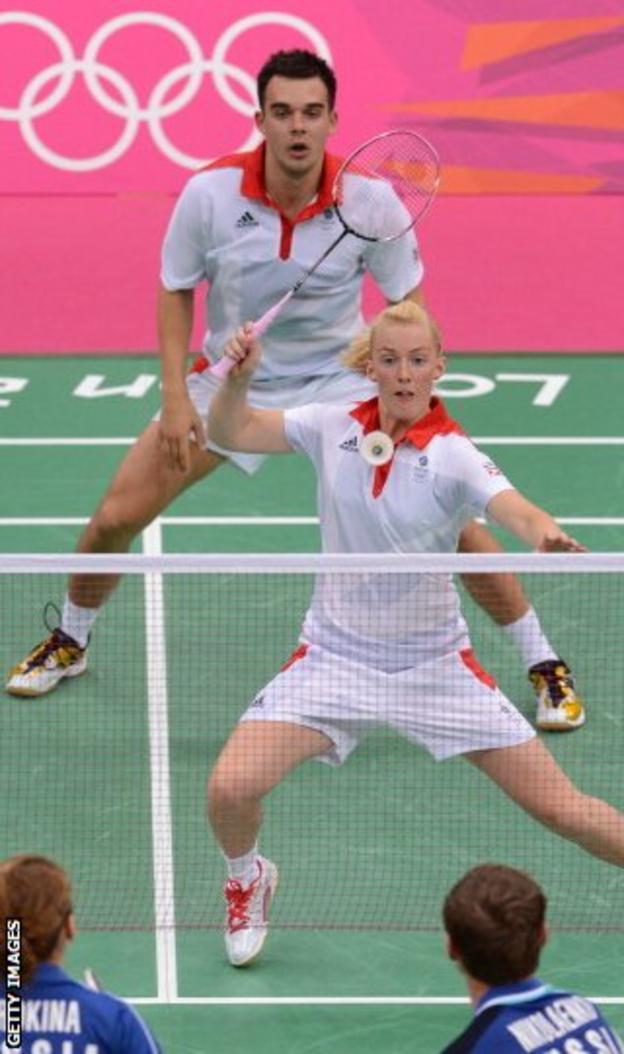 "We've also got a really strong Scotland team, so I'm hoping for a good team performance and maybe we could get a team medal."
So will the Commonwealth Games in her native Glasgow really be a final fling before hanging up her racquet?
"Yeah, it could be," she said. "I don't like to think of it like that, but yeah, it possibly may be.
"But, with only two years to go after that until the Rio Olympics, who knows?"
If Bankier does take a medal at Glasgow 2014, she'll be the first Scot to do so since Susan Hughes (now Egelstaff) brought home a bronze from Melbourne six years ago.
The chief executive of Badminton Scotland, Anne Smillie, wants at least double that tally at a home Games.
"I would be disappointed if we don't get two medals," said Smillie.
"I'd be delighted with two; thrilled with three. Certainly, with the world-class facilities we have - and the athletes who're playing exceedingly well building towards Glasgow2014 - two medals are certainly on the cards at the moment."
Regardless of the 2014 medal count, Bankier is conscious just how big the upcoming Commonwealth Games will be for her city and her country.
"It's huge," suggested the badminton medal hopeful. "You saw how the nation was captivated by the London Olympics.
"I hope we can have the same thing here in Glasgow.
"We've got all these new facilities; we've got a terrific regeneration of Glasgow's East End.
"It can only be a positive influence on the children coming up in the future and hopefully leave a legacy behind similar to London that will inspire a generation to be more involved in sport and that's really what it's all about, I think. "
Although Bankier herself won't be playing, preparations are well under way for the Scottish International Badminton Championships, which begin on Wednesday.
The event takes place at the new Emirates Arena for the first time, away from its previous home at the Kelvin Hall, and has attracted top players from over 30 countries.