Siobhan Kay wins BBC Sport Unsung Hero in Scotland award
Last updated on .From the section Scotland
Irvine's Siobhan Kay has been named BBC Sport Unsung Hero in Scotland 2012.
Kay, who works as a community police officer in Greenock, has been honoured for her work developing girls' and women's football in her home town.
She launched Irvine Thistle Girls/Ladies FC four years ago and there are now 70 players and six coaches on the books.
Kay, 25, will attend the Sports Personality of the Year awards in London on 16 December.
The ceremony will be held at the 15,000-capacity ExCeL and promises to be the biggest in the programme's 59-year history after an enthralling summer of British sport.
The overall Unsung Hero for the UK will be announced at it.
Kay's football club trains at Irvine's Magnum Leisure Centre and has a women's team and four for different age groups up to under-15.
Every week during the four years since she started the club she has devoted at least 12 hours leading the training sessions.
Her voluntary work extends to providing coaching sessions for pupils at John Galt, Loudoun Montgomery and Woodlands primary schools and at Irvine Royal Academy.
"I've never had a problem finding the time - I do it because I love it," said Kay.
"It's great that so many girls and women are getting involved in playing football and I'm just glad I'm helping that to happen in the area.
"If I can't make any of the training sessions because of the way my shifts fall, one of the other coaches will always step in."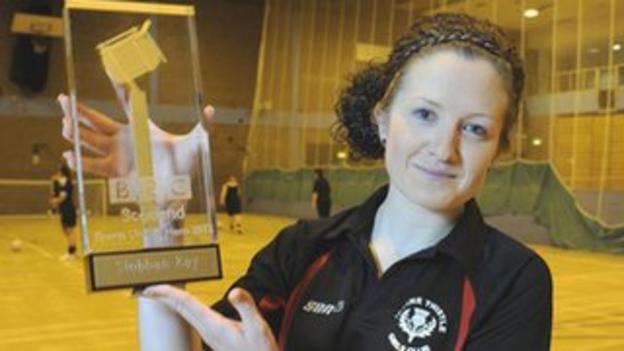 She added: "It was a shock when I was presented with the award but I'm looking forward to going to the event - maybe I'll get to sit next to David Beckham!"
Siobhan was nominated by teenager Erin McAuley who appreciates the support the coach has given her since she joined the club.
Erin, 15, said: "Siobhan has really brought on my confidence since I joined.
"She has always been willing to help me progress as a footballer. She has allowed me to help her coach the younger teams and in some of the primary schools too.
"She is an inspiration to so many people and after being part of the club and seeing her work I want to follow sports as a career."
Since 2003 the BBC has recognised the achievements of Unsung Heroes with this award, with nominations coming entirely from members of the public.
Now in its 10th year, the Unsung Hero Award will be given to someone who goes the extra mile to help out in local sport.