Rangers chief Charles Green criticises Tannadice ticket plan
Last updated on .From the section Football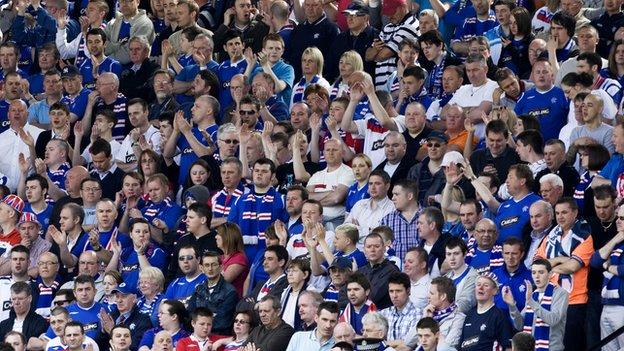 Charles Green has questioned Dundee United's decision to sell tickets to Rangers fans for February's Scottish Cup tie at Tannadice.
The Ibrox chief executive says the club will not take up its allocation and has urged United not to sell tickets to visiting supporters on safety grounds.
United confirmed they will sell tickets to any Rangers fan, a move Green has condemned.
"There are a number of issues, safety has to be paramount," said Green.
Third Division Rangers announced earlier this month that the club would not take up its allocation of February's tie.
The Rangers Supporters Trust asked fans to boycott the tie over United's opposition to Green's application to take over the Scottish Premier League member status that Rangers lost following financial problems.
Some Ibrox fans have pinpointed Dundee United chairman Stephen Thompson as being one of the most outspoken figures on the subject.
And Green, who bought Rangers' assets after the company that formerly ran the club could not be saved from liquidation, believes the decision to sell tickets directly to visiting fans could spark trouble at the match.
"We are very conscious of safety, " said Green.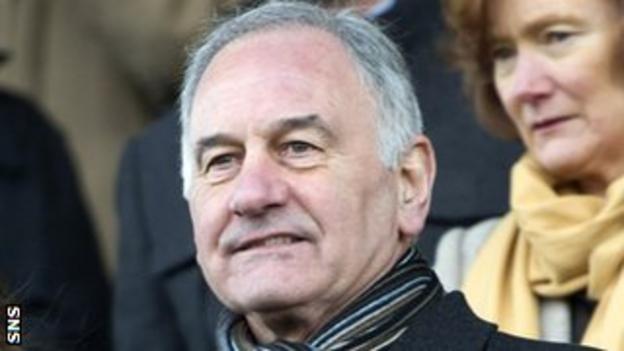 "We are concerned that Dundee United won't know who they are selling tickets to and how will they know if they're genuine Rangers fans or potential troublemakers?
"Football needs to be safe and there's no guarantee it will be."
The Rangers Assembly is also still angered by Thompson's refusal to refund Rangers fans for tickets when a match at Tannadice in November 2009 was abandoned at half-time because of a waterlogged pitch, which Green points to as one of the reasons behind recent problems between the two clubs.
"It wouldn't need a bright guy to tell you that there has been tension between Rangers and Dundee United for a number of years," added Green.
"We have taken a decision to diffuse that tension but the decision to sell tickets to people who may not be Rangers fans is taking it to a high level.
"I'm disappointed, I spoke to [Scottish Football Association chief executive] Stewart Regan about it the other day when the SFA asked my reasoning.
"We have been very clear from day one, because of the fans' issues with Dundee United in the past as a board we made the decision not to take tickets and requested they didn't make tickets available to Rangers fans.
"The reason why is because if we're not selling the tickets then we're not convinced that someone on the outside has that control. It's safety-driven.
"I would ask United to think again. The majority of Rangers fans said they didn't want to go. There will be a few who do and I can understand that.
"But I think it's foolish to try and bring in a few Rangers fans who might not be - it could be any number of people who turn up with a red, white and blue scarf on.
"I can understand that people will want to watch their team play - genuine Rangers fans. There will be people who have not missed a game in years, I recognise that and admire that passion."