A dash across London to see Usain Bolt produce his magic

By John Beattie
BBC Scotland
Last updated on .From the section Scotland0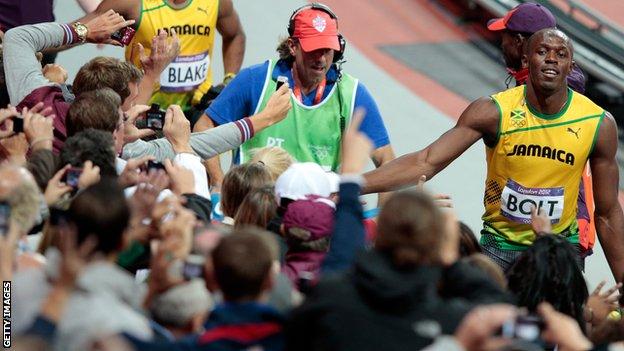 The International Broadcast Centre at London 2012 was an air-conditioned tin shed chilled to within an inch of its life to prevent expensive television equipment from spontaneous combustion.
Journalists rushed here and there to keep warm, all the while wrapped up in clothing more often seen in Antarctic exploration.
It became the centre point to our lives as we put together radio programmes and TV bulletins - and fed pictures and audio back to Scotland in a constant fight to feed the outlets that needed them. The building was the focus of my life.
Oh, there were glorious moments. Katherine Grainger's win beamed its way on to our massive screens and our small Scottish contingent wiped tears of happiness from our eyes as she hung that gold medal around her neck.
Scott Brash brought stunning success, as did Heather Stanning. Sir Chris Hoy blasted his way around the velodrome and Andy Murray courted sheer magic on Centre Court.
Kheredine Idessane and I were lucky enough to see both Hoy and Murray win their medals.
But there was a stadium holding 80,000 people and a certain Usain Bolt to watch and I had seen neither.
So I got hold of a media pass, jumped on the bus back from Wimbledon, jumped on another to the stadium and took my seat beside some rather startled BBC Wales colleagues right at the finish line.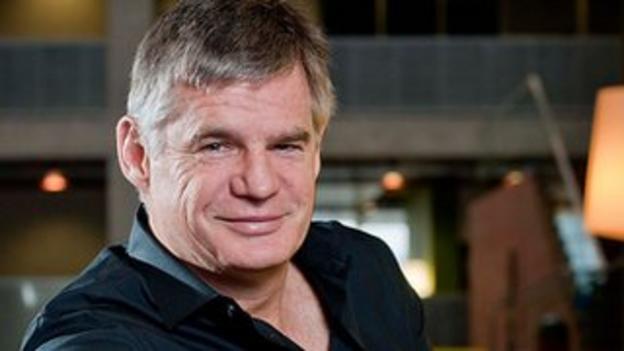 I felt completely overwhelmed. I realised that, actually, I don't have a real job.
The stadium was lit up as brightly as the brightest star, with a PA system to match and a sea of joyful faces. It's the only way I can describe these people.
They had come from all over the world, it was a dry, beautiful night in London and Bolt was about to run in the 100m final.
Now, you and I know that Bolt wasn't meant to win. He was under pressure from Yohan Blake, his training partner, who had been beating him.
The roar that greeted the 100m runners as they came out was so laden with expectation that I felt a shiver down my spine.
However, as the camera panned along the starting line-up, Bolt appeared to have no cares as he pretended to mix and blend a track through headphones and with an imaginary turntable. His image was high above me on a screen, but he was only a hundred or so yards to my left.
He even winked at the camera. It didn't feel real. Flashbulbs exploded. He took his starting position and, after the gun went, he blasted a time of 9.63 seconds.
Just after he broke the tape, I took my eyes away from the event in front of me and turned around to watch the crowd. A multi-national gathering was screeching, screaming and smiling.
You know, the older I get, the more I wonder about the true meaning of sport. At times, the pursuit of gold medals can appear selfish and, given the world's problems, a totally worthless aim.
But sometimes it's good enough to think that sport's ability is to bring people together in peace to watch wonderful things.
I didn't have to understand it, I didn't have to analyse it, I just knew that I had been at one of the greatest moments of my life.
It seems a lifetime ago now, but in a beautiful summer of Olympic sport, Bolt's 100m win was the moment that made millions sit up and smile and bask in his glow.
And that's good enough for me - and going back to the IBC didn't feel too bad after all.
That was my highlight of 2012, what was yours?