Ross County concern over fixtures under 12-12-18 plan
Last updated on .From the section Football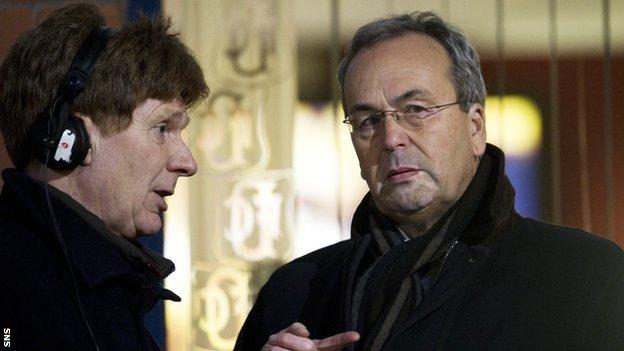 Ross County chairman Roy MacGregor has expressed concern about the "uncertainty over fixtures" in the proposed model for league reform.
"There is so many positives in the thing put forward," he said.
"I do have a concern that we're only selling a season ticket for 22 games and that doesn't give certainty."
MacGregor revealed only three of around 130 fans had been in favour of the reconstruction proposals when the club's board met with supporters.
And, while he was at pains to stress the "many positives" of the 12-12-18 plan, the chairman shared fans' concerns about fixtures.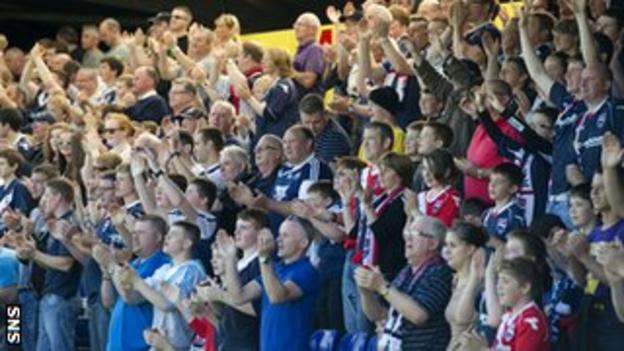 "Yes, you will get emotion but the fans have a real concern that there is no certainty," he told BBC Radio Scotland.
"Are they buying a season ticket for half a season? If there's a couple of games postponed before the split, can you get the season finished?
"We thought it was debated in the press and it came as a shock to me that, overwhelmingly, they would rather the status quo; they would rather the status quo plus a play-off even in the existing structure.
"There is plenty that the clubs have wanted [in the proposals]. Everyone's agreed that the redistribution [of income] and the one league [body] and play-offs are really important things that have been going around for a long time.
"We mustn't lose sight that these are really good things for the league.
"The First Division in particular has been starved of cash for too long and the clubs in there need this redistribution of income and it needs to flow, not just for one season but for a number of seasons to give more clubs a chance to stay full-time.
"Eventually, hopefully, there'll be an increase in the numbers in the Premier League.
"But, on the other hand, we also have got to realise that this game is about the fan and I think Scottish football for too long has forgotten about the fan."