Shinty: Newtonmore back move to scrap plan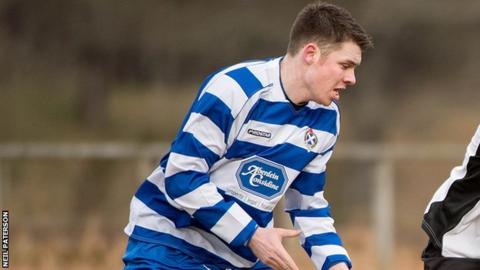 Shinty Premiership champions Newtonmore are backing a move to scrap shinty's league reconstruction plans.
The Camanachd Association Board plan to reform shinty's league structure from next season.
However, Division One side Skye Camanachd have lodged a motion to keep the existing structure.
And Newtonmore have now abandoned their limited objections to the governing body's scheme and will instead support Skye's bid.
If successful, the Skye motion would see the continuation of a 10-team Premiership with North and South area leagues below it.
In February, the board announced at an Extraordinary General Meeting that, from 2014, a second national tier would be reintroduced and the Premiership reduced from 10 teams to eight above revamped area leagues.
Within days, Newtonmore lodged a motion for the Association's AGM on 26 April opposing the reduction of the top league.
This was followed by Skye's move to keep the status quo.
"After a conversation with a number of other clubs who asked if we would support the Skye bid as well, and they were all going to, we decided that was the best way forward for shinty," said Newtonmore president Norman MacArthur.
"Certainly, speaking to all the Premier League teams, they are all for leaving it as it is.
"I speak to a lot of people regularly in shinty from different clubs, and I haven't actually spoken to anybody who is in favour of any of the changes."
MacArthur says he now believes that his club's original proposal did not go far enough due to the short timescale involved.
He added: "The reason was that it all happened very quickly and we had to get a proposal in, so we just threw something together very quickly without having to sit down and think about it.
"I think the Camanachd Association just did the same thing when they made the decision to change everything.
"I don't think they thought of all the problems that might arise from it; with a new national Division One the travelling is going to be a massive problem."
Shinty's rules allow the board to decide whether the motion will even be put to the AGM in Fort William.
The board was due to meet on 27 March but that was cancelled due to the unavailability of some members.
The meeting now needs to take place by 10 April and MacArthur is adamant that the board must agree to have the motion heard.
"The board must at least give the clubs the chance to vote on it at an AGM," he said.
"Most clubs thought they were going to the EGM to vote on it, so to sit there and be told that the board had already taken the decision I think was a shock to most folk and that's why I think we're at this stage now," he said.
It is believed that should the motion be refused, one option might be for the clubs to call an EGM instead.