Shinty: Skye Camanachd step up bid to halt re-organisation
By Charles Bannerman
BBC Scotland
Last updated on .From the section Scotland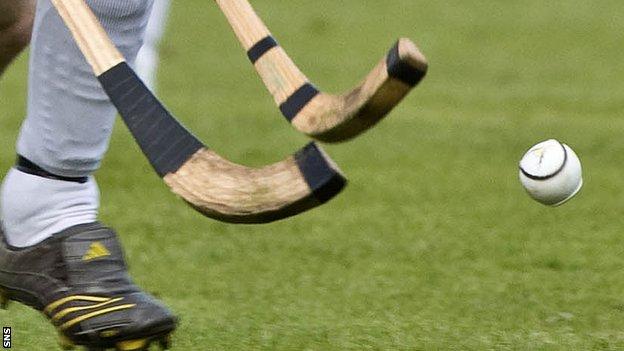 Skye Camanachd have called for a special general meeting of shinty's governing body in a move to prevent league re-organisation for next season.
The game currently operates with a national division of 10, underpinned by regional leagues.
The Camanachd Association plan to reduce the top flight to eight but introduce a national second tier.
A motion by Skye to consider maintaining the status quo at April's AGM has been rejected.
"We are disappointed because we had made a fairly sound case to go before the AGM and we have demonstrated that we have support behind us for our proposals as well," said Skye secretary Keith MacKenzie.
"With respect to the board of directors, they've made it clear that [the league reforms are] the best course of action for shinty.
"That might well be the case but we want to have our voice listened to. We feel that's the most important thing and, if it is indeed the right course of action to take for shinty, then I don't think the directors should be scared of putting it to a vote of member clubs."
In a statement, the Camanachd Association said: "Directors did not consider the proposed motion received from Skye as competent business for the AGM which is the annual business meeting about the performance of the company."
The association also made reference to "the extensive consultation carried out in relation to the revised format" and the "explicit endorsement" of members at a meeting in December.
Twenty-one days are required to make arrangements for an SGM, with members given 14 days' notice.
Shinty operates a March-October season and the 2013 campaign is several weeks underway.