Eilidh Child to set Scottish record at Loughborough meeting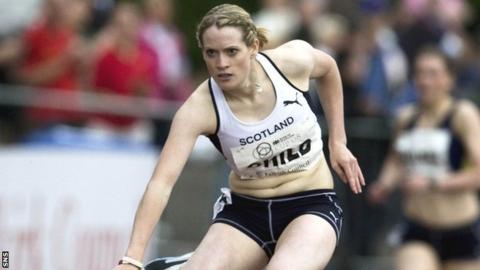 Hurdler Eilidh Child will create a new Scottish record when she competes for her country at the Loughborough International event on Sunday.
When Child races in the 400m hurdles, she will surpass Susan Deacon's tally of eight appearances at the meeting.
"I always look forward to Loughborough at this time of year and it was nice to hear about the appearance record," said the 26-year-old Olympian.
"It is good to compete as a Scotland team."
Child and her team-mates will take on England, Wales, Loughborough University, British Universities and a Great Britain Under-20 team containing four Scots at the Paula Radcliffe Athletics Stadium.
Child's five wins at Loughborough is already a Scottish record and she will be looking to add to her medal haul when she competes for the first time over hurdles this season.
She is also in the Scotland 4x400m relay squad, with the athletes looking to retain their title.
"I think we can all feel the excitement building towards Glasgow 2014 with some of the performances being delivered already," Child added.
"This weekend will be my first 400m hurdles outing of the season after a lot of hard work through the winter and indoors.
"I enjoyed the relay last season - Scotland ran very well as a team that day and hopefully we can do so again and get a qualifying time for the Commonwealth Games."
While Child seeks a record-breaking ninth appearance for Scotland in individual events, Lossiemouth's Kathryn Evans, a late call-up, will be able to boast of an 11th consecutive appearance across team and individual events, if she gets to run in the 4x400m relay.
Child's fellow Olympian Lynsey Sharp is suffering from a chest infection and cannot run in the 800m on Sunday.
Scottish Athletics' director of coaching Stephen Maguire will lead the team at Loughborough but is keen to hear reports of Scots performing well elsewhere too, as thoughts turn to the Commonwealth Games in Glasgow next year.
"There will a large number of Scottish athletes in action over the course of the weekend, from the United States to Birmingham as well as Loughborough," said the Irishman.
"It gives us a good chance to see where people are at after the winter and then, in many cases, warm weather training camps.
"I would stress it is early season but already I am encouraged by a number of performances by people chasing the selection standards for Glasgow 2014.
"With the help of their coaches, athletes are looking to improve individually and thus raise our overall quality as a team.
"For me at Loughborough there's also a chance to meet and talk to the athletes as well over a couple of days and that's a good opportunity.
"For those competing - it is not all that often there is that chance to wear a Scotland vest and it will be an honour for them.
"Having people like Eilidh Child and Lynsey Sharp present is great because it allows younger athletes selected to spend time with them and learn from them. Lynsey won't run on Sunday but will be at the hotel and spend time with the team.
"Even just being around Olympians and seeing how they prepare can be educational."
Jamie Bowie will make his first 400m outing of the season at Loughborough and Shaun Wyllie, Tom Holligan, Nick Percy and Zoey Clark will compete for the GB U-20 team.
"I opened my season last year with 47.3 in my first 400m and I would hope to match that or maybe even be a little quicker," said Bowie.
"It all depends on what the conditions are like on Sunday. My training has gone well and I am hopeful of a decent race."
Edinburgh AC's Laura Dunn has been drafted in to compete in the 3,000m on Sunday with the 800m replacement for Sharp yet to be confirmed.
Scotland team for Loughborough:
Men:
100m Tom Holligan
200m Ryan Oswald
400m Jamie Bowie
800m Jack Walker
1500m Neil Gourley
3000m Kris Gauson
110m hurdles Allan Scott
400m hurdles David Martin
3,000m steeplechase: Lachlan Oates
High jump: Allan Smith
Long jump: John Carr
Triple jump: Anthony Daffurn
Discus: Angus McInroy
Javelin: Greg Millar
Hammer: Mark Dry
4 x 100m relay: Oswald, Grant Plenderleith, Allan Hamilton, Allan Scott
4 x 400m relay: Bowie, Kris Robertson, Anthony Young, David Martin, Martin Lipton.
Women
100m: Kathryn Christie
200m: Gemma Nicol
400m: Kirsten McAslan
800m: Tbc
1500m: Claire Gibson
3,000m: Laura Dunn
100m hurdles: Claire Taylor
400m hurdles: Eilidh Child
3,000m steeplechase: Lennie Waite
High jump: Emma Nuttall
Long jump: Jade Nimmo
Triple jump: Nony Mordi
Pole Vault: Caroline Adams
Shot: Kirsty Yates
Hammer: Susan McKelvie
4x 400m relay: Child, Nicol, McAslan, Diane Ramsay, Kath Evans, Chloe Lambert.