Shinty: Glenurquhart & Lovat set up MacTavish Cup final derby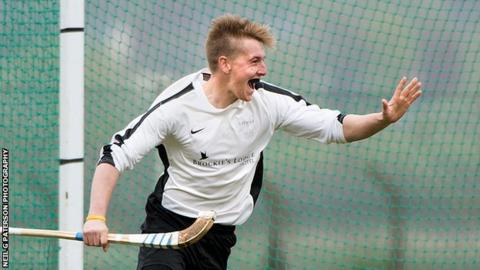 Glenurquhart will face local rivals Lovat in a cup final for the first time after both reached the MacTavish Cup final.
The match at Bught Parks in Inverness on 15 June is sure to attract a large audience and local interest.
Glenurquhart rocked the competition when they won 2-1 against current champions Newtonmore, with Ewan Brady's winner setting up a fantastic occasion for the north of Scotland's shinty fans.
Lovat (pictured) progressed after beating Kilmallie 2-1 at the Canal Parks, Lorne Mackay and Owen Ferguson on target.
In the south, Inveraray face Kyles Athletic in this year's Celtic Society Cup final after Euan McMurdo bagged an extra-time winner to give the Winterton warriors a chance to retain the trophy.
Kyles' progression was a little more comfortable, Roddy MacDonald and Dunky Kerr both claiming doubles against Glasgow Mid Argyll.
The final will take place at Strachur on 29 June.
Kinlochshiel took both points at Spean Bridge against Lochaber in the only Premiership fixture to go ahead. A Gordy MacDonald double topped up by John Macrae was one more than Lochaber could compete with.
Fort William's fixture against Kingussie was postponed due to a bereavement.
The whole town of Fort William were devastated to hear of the death of Drew Ferguson, 24, who had played for both Fort William Football and Shinty clubs, until recently getting a job offshore.
Drew was an inspirational young man and player and has the record for being the youngest player ever to score in a Fort William first team jersey at the tender age of 14. I'm not sure there are words to describe how much he will be missed by the club and those who knew him.
On Friday night in Fort William,
This means the Premiership will be an eight- rather than a ten-team league, and National Division 1 will be reinstated as proposed by the association's board members.
Looking ahead to this weekend's fixtures, it's derby day across the Premiership.
Newtonmore have home advantage over Kingussie in the battle of Badenoch, while Lovat take on Glenurquhart at Kiltarlity in a MacTavish Cup final warm-up.
Meanwhile, Kinlochshiel welcome Oban Camanachd to Balmacara, as Lochaber and Fort William grace the field at Spean Bridge.
This Lochaber derby is a must-win game for both as Lochaber and Fort sit with their toes in the relegation zone.
I am unfortunately missing the big match as my musical commitments have me up and away, however I'll be following all the updates from the Camanachd Association.
Being away however means I don't have to worry about my home village heckling me from the sidelines or the possibility of having to mark my brother Hughie, which was a possibility. All that aside, I am gutted to miss the match as derby days are brilliant to play in.
Over the past 20 or so years Fort have had the dominance in this fixture, however Lochaber over the past few years have started to even the score a little.
And, with Premiership survival possibly resting on this result, who knows which way it will go?
Safe travels to all clubs and supporters.