Shinty: Sunday service recommended for shinty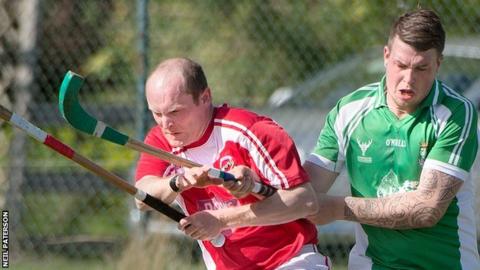 It was derby day for most across the Premiership apart from our very own derby between Lochaber and Fort William.
At the start of the 2013 season both Lochaber and Fort William agreed this fixture would take place on Sunday June 26th with the added possibility of live BBC ALBA coverage.
However, Fort William decided at their AGM in April that the club would now play the match the day before, on Saturday 25th, with the rest of the weekend's fixtures.
The Camanachd Association have since said they only received this information on 6th May, but, in accordance with their by-laws, they only need to be notified of a date change seven days prior to a fixture.
Lochaber then said their players had made other arrangements and were now unavailable for a Saturday fixture and so would not accommodate the change of date.
Friday night and Saturday evening were also options put forward, however Lochaber declined both for the same reasons.
The long and short of it was that Lochaber would only play on Sunday and Fort William would not play on Sunday, so no game took place.
I think, if truth be known, both clubs were probably players short on each of the two days and neither wanted to compromise or give advantage to their nearest league rival.
Lochaber and Fort William are well aware that both clubs need those two points from each other to keep out of the bottom two.
It was disappointing that it didn't work out on this occasion; however, I have said in my blog before, I think if both clubs agree, one Sunday match a month would be a great addition to the sport and, without question, would attract a large number of mutual supporters through the gate.
I know there are people who for religious reasons feel Sunday should be sport free and so on, however, historically, the minister in Laggan, and Lochcarron, used to allow shinty to be played on a Sunday morning as long as the players then came to his church service in the afternoon.
A clever way to raise congregation numbers.
In the derbies that did go ahead, Newtonmore once more strutted there dominance over Kingussie in the Badenoch battle with a 4-0 victory; while Lovat's unbeaten run continued with 4-0 win over Premiership rivals Glenurquhart.
Kinlochshiel took both points at Balmacara with a 3-1 win over Oban Camanachd.
Looking ahead to this weekends fixtures it's the second round of shinty's blue riband event, the Camanachd Cup.
This is the competition that every single shinty club, player and supporter wants to see their lads lift at the end of the season.
This weekend's draw is as follows: Kingussie v Lovat, Beauly v Oban Camanachd, Kyles Athletic v Inveraray, Newtonmore v Strachur, Lochaber v Glenurquhart, and Skye v Kinlochshiel.
Fort William have home advantage over Glasgow Mid Argyll who brushed aside Kilmallie last weekend 2-0 in the first round.
Fort William have a good record over GMA in the past but, in the Camanachd Cup, you just never know what fairy tale story is waiting to flourish.
I just hope for Fort's sake it's not a GMA fairytale this week!
Safe travels to all clubs and supporters.