BBC Scotland continues Scottish League Cup coverage
Last updated on .From the section Football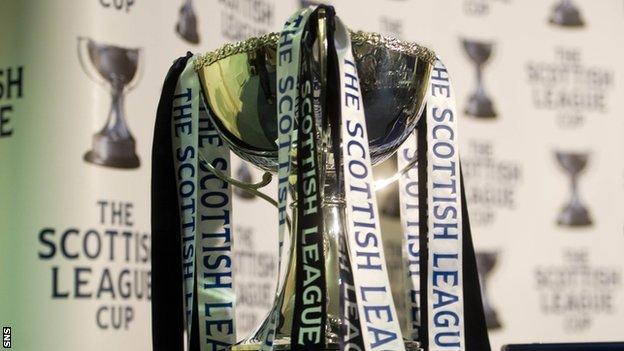 BBC Scotland has extended its exclusive broadcasting deal for the Scottish League Cup until 2016.
Four games from the competition will be televised live on the BBC each season for 2013-14, 2014-15 and 2015-16.
There will also be live coverage on BBC Radio Scotland, with highlights and some live content streamed on the BBC Sport website.
takes place on Saturday 3 August.
The Scottish Professional Football League have taken over the running of the tournament, which was previously under the auspices of the Scottish Football League. The SFL and Scottish Premier League merged to form the SPFL.
"We are delighted to announce that BBC Scotland will again be screening live free-to-air coverage Scottish League Cup matches," said SPFL chief executive.
"This will ensure that as many viewers as possible are able to enjoy the drama of this season's Scottish League Cup and should help attract a sponsor for this prestigious competition."
The League Cup has been broadcast exclusively on the BBC since 2004.
BBC Scotland's head of sport Ewan Angus added: "It's great news for our audiences that we can bring top live action from the Scottish League Cup for the next three seasons.
"Building on the success of previous seasons, we will continue our high quality coverage of key games from the competition including a semi-final and the final each season.
"The combination of live matches and highlights on television with our live radio commentaries, online clips and iPlayer streaming makes it a winner for our audiences."