EuroHockey 2013: Scots' Emily Maguire in warning to England
Last updated on .From the section Scotland
Emily Maguire has warned England that the Scots will not be saving themselves for a relegation battle when the sides meet in the European Championship.
England need to win their final group game to make sure of a semi-final place, while the Scots almost certainly will be in the relegation group.
But Scotland defender Maguire told BBC Sport: "By no means will we go out there and look to conserve energy.
"We go out and we play every game as hard as we can."
The Scots' predicament comes after they suffered a second narrow defeat in Group B, losing 2-1 to Spain after being edged out 1-0 by Germany.
After their opening 3-0 victory over Spain, the English go into Tuesday's final group game in Boom, Belgium, on the back of a 2-1 loss to the Germans.
"We are pretty much definitely going to be in the relegation pool," said Maguire, who will be up against many of her team-mates from the Team GB side that played at the London Olympics.
"Our focus does switch to that and I imagine we'll be using that England game to look at things we want to work on in our next two games.
"I absolutely back our coaching staff and believe in them that they know what to do to build on two good performances."
The Scots pressed for much of the second half but had been unable to recover fully from a goal conceded within 20 seconds to the Spanish through Maria Gomez, who also scored the winner after Nikki Kidd's equaliser.
"I think being being involved in history is a good thing in some ways, but if that's the fastest goal in the European Championships, I don't want to be part of that history," said Maguire.
"I think frustrating would be the word. In our game yesterday, we really just wanted to go out and show we can compete at this level - we really do belong here in the A Division.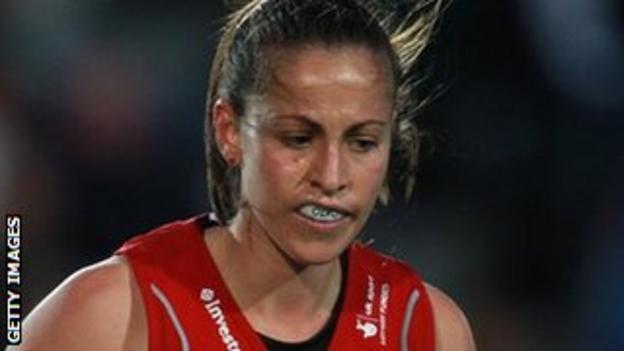 "But, to be honest, today was the game we were really targeting.
"Before the tournament, we had planned that, if we ended up in that relegation pool, Spain would likely be there with us, so to get points in this game was really important to us.
"It really was a key game for us and to say we are all pretty gutted with that result would not be an understatement.
"We were trying to get some points today to make our lives that bit easier. Unfortunately, we weren't able to do that."
Belarus and Ireland are favourites to drop into the relegation games against the Scots having both lost their initial matches in Group A against hosts Belgium and the Netherlands respectively.
"We've been a bit of a yoyo nation in the last couple of championships," added Maguire.
"It's really frustrating because, as anyone can see, we play really good hockey."
Meanwhile, England midfielder Helen Richardson recognises that the Scots will present a difficult test.
"Scotland have been training incredibly hard," she said.
"They've got the Commonwealth Games at home next year and they've put a lot of resources into that, trying to build a strong foundation.
"We're going to have to be on top of our game to beat Scotland."