World Athletics 2013: 'Last place best for me' - Chris O'Hare
Last updated on .From the section Scotland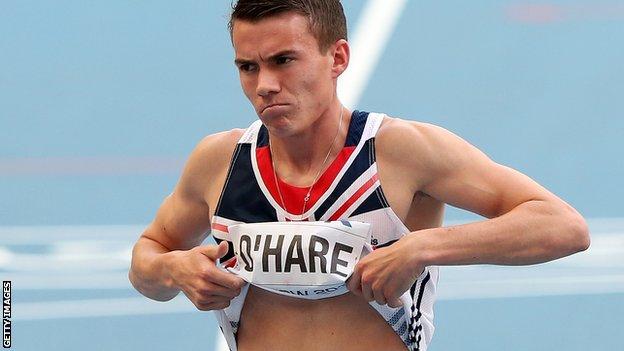 Chris O'Hare hopes finishing a distant last in his 1500m final at the World Athletics Championships in Moscow will prove a blessing for his development.
The 22-year-old Scot was unable to match his as Kenya's Asbel Kiprop won gold.
"Having a bad final was probably best for me at this point of my career," the Edinburgh athlete told BBC Sport.
"I can go home and not be complacent and work hard and make sure it never happens again."
O'Hare had been close to his personal best as he qualified fourth in the semi-final in 3:43.58 but clocked 3:46.04 as he trailed in 12th and last in the final.
It looked like one race too many for the Great Britain and Ireland competitor as he looked heavy-legged in trailing the winner by nearly 10 seconds.
"I just didn't have it today," he said. "I tried to step it up a gear, but I just didn't have it.
"My legs were just tired, fatigued. I fought for it for ages and it just wouldn't come."
O'Hare was disappointed to have put in such a performance considering the "fantastic" support he said he had received from those back in Scotland and from his university in Tulsa, Oklahoma.
"You don't learn anything when you run that well and so really in terms of development," he said philosophically.
"I'm going to have to go back and think hard about where I'm going to pick my confidence up from here because that was pretty disappointing."