Tables turned in shinty's derby dominance

By Gary Innes
Fort William shinty wing centre
Last updated on .From the section Scotland0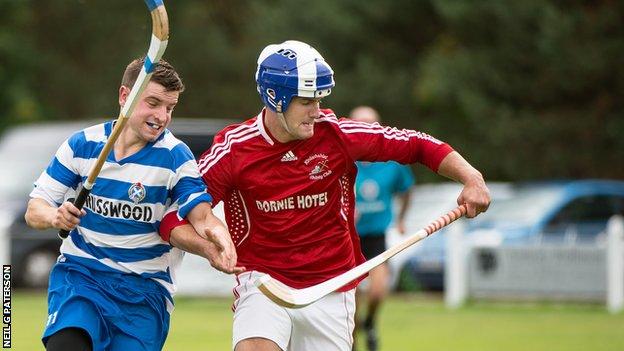 It was derby day in the Orion Group Premiership last weekend and, live on BBC ALBA, Newtonmore demolished rivals Kingussie.
Doubles from Danny MacRae, Glen MacIntosh and Fraser MacKenzie, had the blue and white colours of Badenoch six ahead, before Kings Louis Munro, scored a consolation goal for the home side.
Kyles Athletics, hot off there MacAulay Cup win, travelled to Inveraray and lost 2-1.
Kyles' Thomas Whyte opened the scoring early for the visitors but second-half goals from Garry MacPherson and Lewis MacNicol secured two points for Inveraray.
A Greg Matheson hat-trick for Lovat had them three ahead of Oban Camanachd at Mossfield. Camanachd did manage to pull one back through Sean Morgan, however, Kevin Bartlett quickly dampened any thoughts of a Camanachd comeback with Lovat's fourth and final goal.
Fort William travelled to Spean Bridge and knew realistically they needed to take both points to have any hope of staying in the Premiership.
And when Kevin Ferguson scored in under five minutes for the red and white Lochaber hoops, things were not off to the best of starts.
A Duncan Rodger strike soon had the game all square, as both teams went into the break even.
Scott Patterson pushed Lochaber back into the lead with only ten minutes remaining and Fort William could not muster an equaliser.
It was a good win for the Spean men who have, for as long as I've played shinty, lived in the shadow of Fort William. The tables and dominance however are definitely turning, like we have seen in Badenoch over the last five years or so with Kingussie and Newtonmore.
This loss almost confirms Fort William will play their 2014 season in the newly reinstated National Division 1 league, unless an unlikely home and away double can be conjured up against Newtonmore.
As I mentioned in this column a couple of weeks ago, relegation possibly isn't the worst thing in the world for the club at this stage.
Many of the young players that have come through the past decade have only ever known Fort William to be in Camanachd Cup finals and pushing for silverware.
This doesn't just happen overnight and having lost 11 of the 15 men that helped created that successful era, you can never expect to continue at the top level without working alongside the core of your team-mates for years.
A drop in divisions would give this years new crop the opportunity to collectively build as a unit, alongside the remaining older heads.
It should not be all doom and gloom and I for one am actually quite looking forward to travelling to different fields and clubs that I have not yet played at.
Of course I say this now. However, I know fine well after a year I'll be dying for Premiership Shinty again.