Shinty: Newtonmore seal fourth consecutive Premiership title
By Charles Bannerman
BBC Scotland
Last updated on .From the section Scotland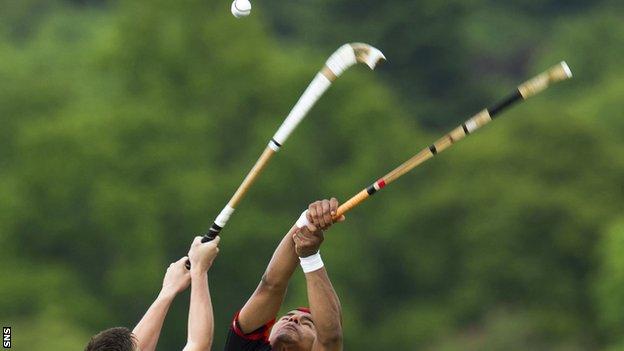 A 3-1 victory over Kinlochshiel at Balmacara has given Newtonmore a fourth consecutive Premiership title and a first trophy for new manager Paul John Mackintosh with three games still to play.
More's triumph came on a day which saw five trophies decided in men's and women's shinty.
These included a league double for themselves since their reserve side also retained the North Division Two crown with a 6-0 success at Glengarry.
Strathglass and Badenoch and Strathspey were the successful women's teams at Newtonmore, while Glasgow Mid Argyll are champions of South Division One.
The ever-present Danny MacRae and Glen MacKintosh had it at 2-0 Newtonmore over Shiel in 14 minutes in the Premiership clincher. Duncan Ach MacRae stemmed the tide before Fraser MacKintosh got More's third just before half-time.
The blank second half perhaps suggests that Newtonmore already have their sights on next Saturday's Scottish Hydro Camanachd Cup final against Kyles in Fort William.
They had also earlier asked, in the event of the victory they needed and got, for a delay in the league trophy presentation until after the final to eliminate the distraction of the celebrations.
But More's second team were presented with the North Division Two trophy at Glengarry where Sam Richardson and Conor Jones both scored doubles in their 6-0 success.
Newtonmore's fourth Premiership title in a row has come from a draw with runners up Lovat on the first day of the season and 14 consecutive wins for Paul John MacKintosh.
He said: "The boys have been very consistent throughout the season. We've scored a lot of goals and we've been playing well.
"The consistency and size of squad has really helped us. The boys have put in a tremendous amount of work and tremendous commitment.
"I speak to other managers all the time and they have trouble getting all their boys to training. You only get out of it what you put in and our boys have put in 100% all year and worked very very hard."
This result also means that Kinlochshiel can not rest totally easy since they remain theoretically catchable by Fort William, who currently occupy the second relegation spot. That follows Fort's 1-0 away win over already relegated Oban Camanachd with an early goal from Bryan Simpson.
Elsewhere in the Premiership, Kingussie beat Inveraray 3-2 at The Dell. Lee Bain and Thomas Borthwick had Kingussie 2-0 up before Lewis MacNicol and Gary MacPherson tied it up late on in advance of Bain's last minute winner.
Glasgow Mid Argyll are Marine Harvest South Division One champions following a 3-2 win over their only challengers Bute in Rothesay with the winner coming from Angus MacIntosh. However Mid Argyl''s women also lost two finals on the same day.
Badenoch and Strathspey, with goals from Megan Ralph, Rhona Stewart and Jane Nichol, defeated Mid Argyll 3-1 to win the women's Valerie Fraser Cup. And it was 4-0 for Strathglass also over Mid Argyll in the Marine Harvest Challenge Cup final where Hazel Hunter grabbed a double.