Boxing Alex Arthur keen to see Ricky Burns return
Last updated on .From the section Scotland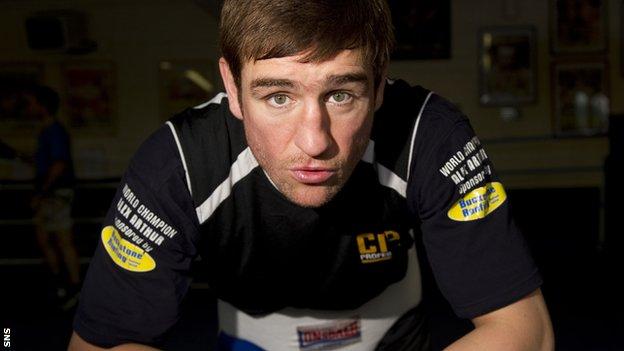 Former WBO super featherweight champion Alex Arthur believes if Ricky Burns never fights again, it will be a massive loss to the sport.
"I'm sure the nation would like to see him fight again," said Arthur.
"He's our only world champion. For him not to fight again, it would be a massive blow for Scottish boxing."
The Coatbridge fighter underwent surgery on Sunday to have a titanium plate inserted into his jaw and could be out of action for up to six months, but Arthur believes his earning power will be a significant factor in any decision to mount a comeback.
"Ricky is the provider for everyone in his camp," said Arthur. "If Ricky isn't world champion, then no-one is making money, so of course his trainer will want him to fight again."
According to reports from Burns's promoter Eddie Hearn, the break occurred in the second round of the fight at Glasgow's SECC and the fighter endured a further 10 rounds before he could receive treatment in hospital.
Arthur was under the impression that the break arrived later in the fight and the severity of the injury could prevent Burns from climbing back into the ring for a considerable time to come.
"It takes a remarkably brave man to fight three or four rounds, never mind ten," said Arthur.
"After having looked at the fight again, I never seen a major blow go in in the second round, I think the first huge blow that I seen go in was in round four.
"There was a massive left hook that Ricky took clean on the button and managed to keep himself standing.
"So, for me, I don't know if a shot in round two has weakened the jaw or slightly fractured it - then the follow-up blow in the fourth round finished it off.
"They've inserted some plates in the jaw and my concern now is that they'll have to remove those plates once the break has restructured itself.
"And then, will they be taken out so he can fight? I wouldn't imagine he would be allowed to fight with a broken jaw and certainly not with rods inserted.
The decision of the judges to rule in favour of a draw in Saturday's fight has been viewed as controversial, with Beltran arguably dominating most of the fight.
Arthur added that he had sympathy for the Mexican brawler who has been forced to return to the USA empty-handed.
Arthur added: "The decision was a bad decision and it wasn't the correct decision.
"Everyone in Scotland was happy though, because Ricky keeps his belt, but you can't help but feel sorry for Beltran."