Edinburgh Capitals seek end to form slump
By Craig Anderson
BBC Scotland
Last updated on .From the section Scotland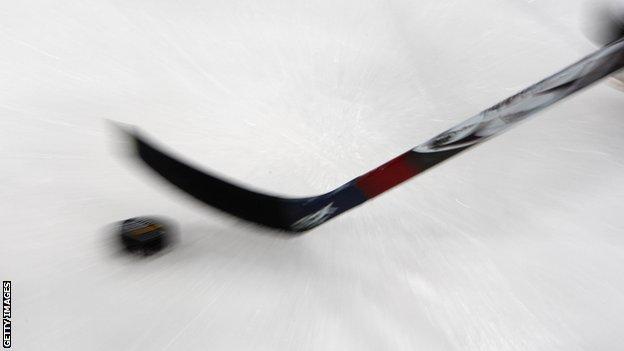 Just how do you solve a problem like Edinburgh Capitals?
Another weekend of suffering for their fans as they witnessed one goal for and eight against as they started October the way they ended September - with a defeat.
Although they found the net in a 3-1 defeat by Cardiff Devils on Sunday, it's now one win in 10 for the Murrayfield side.
Nevertheless, player-coach Richard Hartmann could see grounds for optimism.
"We were trying for the full 60 minutes, but we're not scoring enough goals right now. I cannot fault the effort the guys put in against Cardiff," he said.
"The loss in Fife was very disappointing overall and it's not the way we want to fight for the points. It was a bad, bad night for us.
"Without Curtis Leinweber, who is injured and Rene Jarolin and Brent Patry, who both left, it's a major concern and we need to find those kind of players."
It's hard not to feel sorry for them and in a week that included the return of D-man Michal Dobron, but they were brought back to earth with a bang.
After last week's 7-0 demolition job by Braehead Clan, they travelled to Fife Flyers on Saturday confident of taking something to give their season a jolt.
They didn't get the memo though as the Flyers romped to a comfortable 5-0 lead, courtesy of goals from Matt Reber, Matt Nickerson, Danny Stewart, Jordan Fulton and Rok Pajic.
This may have been a Challenge Cup game, but Fife not playing a league game and Hull's similarly poor form are the only factors in why Edinburgh aren't bottom of the league.
While the Caps may be struggling, the same can't be said of Dundee Stars, who took a full four points from Hull Stingrays to stay of the Elite League table.
Saturday's 2-1 win in Hull was marred by ugly scenes that saw Hull duo Jason Silverthorn and Derek Campbell, and Dundee pair Nico Sacchetti and Jerry Pollastrone all ejected.
Nevertheless, Dundee left Humberside with the points as Pollastrone and Brock McPherson both found the net, despite Jereme Tendler scoring a consolation for Stingrays.
In Sunday's rematch, the Stars sailed into a three-goal lead, courtesy of McPherson, Marcis Zembergs and Sacchetti.
Tendler and Jamie Chilcott soon pulled things back for Hull to set up a nervy final period, but the Tayside men remained resilient to see out the game and clinch the all-important win.
For Braehead Clan, their five-week road trip is at an end, despite ending it with a 4-2 loss to Nottingham Panthers.
With Braehead Arena being used for other events, the Clan have been touring the country, but can now look ahead a home game on Saturday against the in-form Stars.
Nathan Moon and Scott Aarssen found the net for Ryan Finnerty's side, but Elite League champions Panthers were too strong on the night.
For Clan forward Ed McGrane, he believes there's going to be no margin for error and there will be more pressure on his team.
"It's shown how close we really are and now that we're returning home, we have to get those wins and claw those points back," said McGrane.
"There are no excuses now and we'll have our crowd behind it. There are plenty of positives to take and it's important we get on a roll now."
RESULTS:
Saturday:
Challenge Cup Group A
Fife Flyers 5-0 Edinburgh Capitals
Elite League:
Hull Stingrays 1-2 Dundee Stars
Nottingham Panthers 4-2 Braehead Clan
Sunday:
Elite League:
Dundee Stars 3-2 Hull StingraysEdinburgh Capitals 1-3 Cardiff Devils