Edinburgh Capitals face changes after another defeat
By Craig Anderson
BBC Scotland
Last updated on .From the section Scotland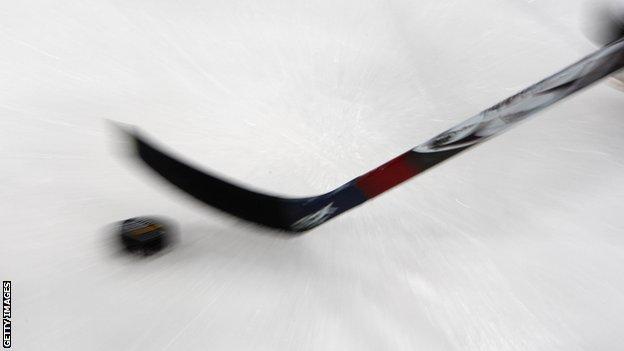 Edinburgh Capitals' player-coach Richard Hartmann has revealed changes are coming to the club after another weekend defeat.
Narrow losses away to Braehead Clan on Saturday then at home to Fife Flyers on Sunday have left the club with only one win in 14 matches all season.
Now the Slovakian has snapped following two more games where his team have surrendered leads.
"This is not the way I want us to play and it doesn't work," said Hartmann.
"The guys are playing as individuals and aren't sticking to the system.
"The changes are coming as this isn't the team I've worked to build for the last two years. Our fans don't deserve what they're seeing.
"It's completely unacceptable that we've lost matches after being in winning positions and we need to change the whole thing."
Hartmann's frustration is understandable with the latest defeats making it five games in a row that the side has lost after initially holding a lead.
Saturday's loss in Braehead came from penalty shots when Joel Champagne tucked away the decisive chance to give Clan the two points.
Goals from Caps duo Curtis Leinweber and Tomas Horna were cancelled out by Shane Lust and debutant Neil Trimm as the Purple Army fought back.
However, Champagne's decider kept the points in the west, leaving Edinburgh with the consolation of one point for taking the game past 60 minutes.
Fife's visit to Murrayfield on Sunday came when the Flyers themselves were struggling for goals in the absence of a sharpshooter.
Rok Pajic found the net on Saturday as Sheffield Steelers plundered a 4-1 win from Kirkcaldy.
They soon made up for that on Sunday when Steven Gunn levelled Martin Cingel's opener for Edinburgh, with Jordan Fulton and Derek Roehl adding further goals.
Cingel pulled it back to 3-2, but Jamie Wilson restored Flyers' two-goal advantage before Michal Dobron netted a wonder goal for Caps. But it wasn't enough.
Fife's associate coach, Danny Stewart, indicated afterwards he wasn't happy with Matt Nickerson, who was kicked out of Sunday's game for abuse of the officials.
"No fault to the referee, but Matt's an emotional guy and after losing Justin DaCosta through injury, we made it clear we needed our defence men," said Stewart.
"We can't afford to lose guys at this point and he'd been playing well. But he put us in a hole and there's no excuse for that."
Dundee Stars, meanwhile, fought hard as they racked up two more wins over the weekend.
They needed penalty shots to overcome Hull Stingrays in Humberside on Saturday before edging past Braehead Clan in a Challenge Cup tie on Sunday.
A double from Nikita Kashirsky along with goals from Jerry Pollastrone and Mike Wirll saw the Tayside men go the distance with the Stingrays.
It needed Nico Sacchetti to pop up with a decisive penalty shot after a further period of overtime couldn't separate them following a 4-4 draw.
Then Kashirsky and Pollastrone found the net in the second and third periods respectively as they went 2-0 up over an under-strength Braehead.
Ryan Finnerty's side had four injuries to imports going into the game and, although Neil Trimm scored his second of the weekend, it wasn't enough for the Clan.
RESULTS
Saturday:
Elite League/Challenge Cup Group A
Braehead Clan 3-2 Edinburgh Capitals (PS)
Elite League
Fife Flyers 1-4 Sheffield Steelers
Hull Stingrays 4-5 Dundee Stars (PS)
Sunday:
Elite League
Edinburgh Capitals 3-4 Fife Flyers
Challenge Cup Group A
Dundee Stars 2-1 Braehead Clan