Shinty-Hurling: Scotland 14-18 Ireland
By Charles Bannerman
BBC Scotland
Last updated on .From the section Scotland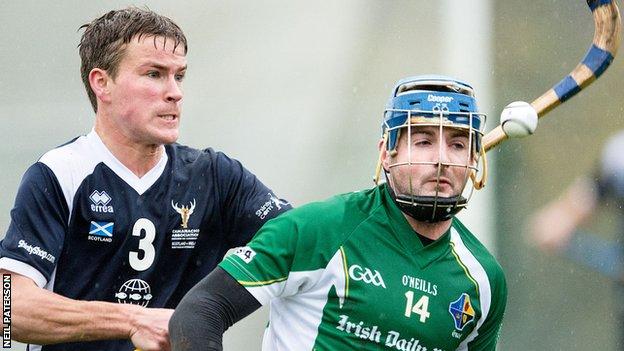 Ireland ran out winners of the second and final shinty-hurling international of the 2013 series in Inverness.
Following a 24-18 success on home ground the previous Saturday, they also retain the Marine Harvest Quaich.
Scotland's Kevin Bartlett, who plays club shinty for Lovat, was the game's top scorer with 12 points.
It made a vital contribution to an 11-10 half-time lead for the Scots, but a goal and a series of single point hits in sealed an Irish win.
It was a dramatic change of venue from the previous Saturday at Croke Park, Dublin which seats 82,200, to Bught Park, Inverness which seats just 500.
This time the Scots scored first when Bartlett got the first of his five first half two pointers over the bar after just two minutes.
Throughout that half there were never more than two points in it as the Irish responded to Bartlett's unrelenting series of strikes with ten single pointers, four of these from captain Neil McManus.
Darragh O'Connell ran 50 yards with the ball neatly balanced on his broad bladed hurly before smashing his effort home for a point.
But a single from Newtonmore's Glen MacKintosh with the last hit of the half sent the Scots in 11-10 up at the interval.
Ireland then got the vital breakthrough early in the second half when Patrick Maher scored what turned out to be the game's only three point goal.
Bartlett, the game's top scorer, brought it to 13 all with two more points in advance of further match winning Irish singles including three more from McManus before a late point from Beauly's Connor Cormack made the final score 18-14.
So Ireland win the series by five points to one.
Scotland manager Drew McNeil said: "I felt in the second half we would go on to win the game but we missed a few chances.
"Not particularly good chances but we should have hemmed them in a bit more. Losing the goal at a bad time wasn't helpful but all in all it wasn't a bad series and I think the boys played well."
And it was a proud Irish captain Neil McManus who held the trophy in his arms after the game.
He said: "I couldn't be happier. It's a huge honour to captain your country and especially in the way the game was played. I think it was one of the best hurling-shinty international we've seen, and long may that continue."
Ireland won the under 21 international 21-10 but there was a 13-11 success for Scotland's women in their Camogie match with Dublin County.
The Marine Harvest National Shinty awards were presented in Inverness on Friday and proved a triumph for Camanachd Cup and Premiership winners Newtonmore who scooped all three major honours.
They won the club of the year while Norman Campbell took the players' title and the coach award went to Paul John MacKintosh in his debut season as manager.
MacKintosh was also named Premiership manager of the year.