Scottish League Cup final: Celtic Park hosts Aberdeen v Inverness
Last updated on .From the section Football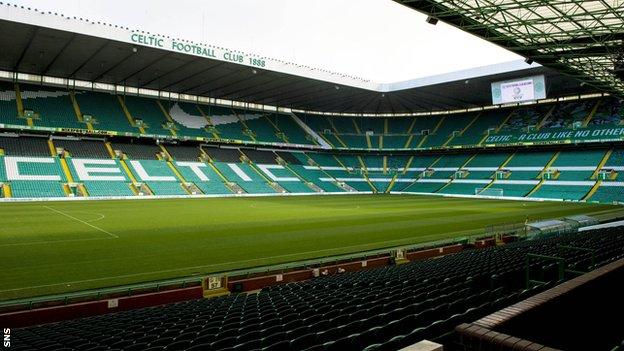 Celtic Park has been chosen to host the League Cup final after it emerged there would be insufficient time to prepare Ibrox for the game.
Rangers host Dunfermline 24 hours earlier, which SPFL chief executive Neil Doncaster said was the "key factor" in deciding where Aberdeen would play Inverness on 16 March.
Hampden is unavailable as it is being readied for the Commonwealth Games.
"We're absolutely sure it'll provide a great venue," he said.
to reach the final, while
Doncaster said Glasgow was "blessed" with three stadia with capacities in excess of 50,000.
"We've lost Hampden as a result of the Commonwealth Games this summer," he said.
"So, we were left with two to consider and we had a full consultation with the clubs involved, both venues: Celtic Park and Ibrox; and with Police Scotland and the broadcasters.
"The key determining factor was that, at Ibrox on the day before the final, Rangers are due to host Dunfermline.
"That's likely to be a live televised game and, in those circumstances, it just wouldn't have been possible for the broadcasters to de-rig on the Saturday and get rigged up in time for the Sunday.
"We've been left with Celtic Park and are delighted to be coming to Celtic Park, which has a huge tradition of hosting big European games.
"We're absolutely sure it'll provide a great venue for the first final for the Scottish Professional Football League."
Responding to concerns that the final would be well below capacity, Doncaster said: "It's always difficult to gauge at this point how many people will be there.
"Certainly with it being the first major final that Aberdeen have been in for some years and the first ever in Inverness's history, we're certainly expecting big interest from both teams and looking forward to a great final at Celtic Park.
"Hopefully, there'll be many thousands of fans travelling from the north to enjoy it."
Celtic's ground will also host the Scottish Cup final in May.
Meanwhile, Doncaster confirmed that Hearts are reviewing CCTV footage of the incident that led to Celtic manager Neil Lennon leaving Aberdeen's semi-final victory early.
towards the end of Saturday's match at Tynecastle Stadium.
And into the allegations of abuse directed at the 42-year-old.