Dan Purvis takes bronze to retain World Cup Series lead
Last updated on .From the section Gymnastics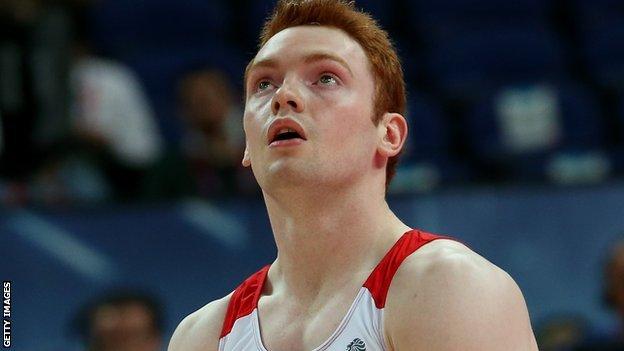 Britain's Dan Purvis has won bronze at the American Cup in Coopersburg to stay top of the 2013-14 World Cup rankings after three out of the four events.
America's Sam Mikulak won gold in front of his home crowd, but the Scot's placing keeps him ahead overall with one event to go, in Japan next month.
Purvis said: "I'm excited to go to Tokyo, the final competition, and aim to top the rankings, as I did in 2011."
The Scot had already taken bronze in Stuttgart and silver in Glasgow.
"The field was strong and it was a big test of my form to get into the top three," Purvis told British Gymnastics.
"I tried out a few new skills and was really pleased to see them pay off in competition.
"My floor and high bar in particular went well; I tried out a new release on high bar that I've been working on for years and landed it well, which is great."
Purvis is looking to top the World Cup Series - an all-around competition featuring six pieces of apparatus - as he builds up for this summer's Commonwealth Games in Glasgow.
"I think it will be a bit of a battle between me and Germany's Fabien Hambuechan, but I'm up for it and hopefully can come out on top, setting me up really nicely for a big year ahead," he added.