World Indoor relay hero Jamie Bowie enjoys taste of silver
Last updated on .From the section Scotland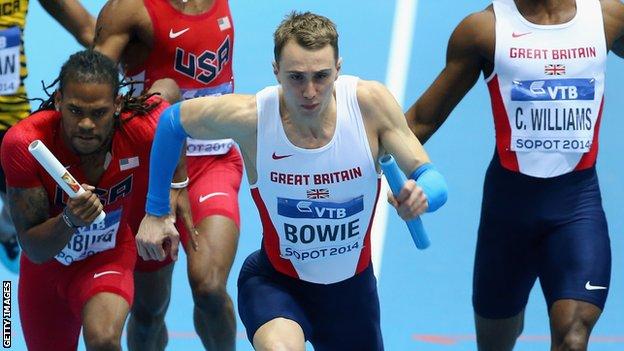 Jamie Bowie says winning relay silver at the World Indoor Championships is just the boost he needed ahead of this summer's Commonwealth Games in Glasgow.
The 24-year-old Scot has yet to run the 400m qualifying time of 45.65 sec for the event in front of his home fans.
But he played an important role in the third leg as Great Britain & Northern Ireland took 4x400m silver in Poland.
"It is a good boost and I need to make sure I stay fit and health and make sure we attack that standard," he said.
Along with Luke Lennon-Ford, Nigel Levine and Conrad Williams, Bowie held off the Jamaicans to finish second behind the United States.
"In my second major championships as a senior, to land a silver medal and be able to prove myself on the global stage is pretty fantastic," he told BBC Scotland.
"To do it with two of the guys who have come through with me, the Under-23 European Championships of 2009 and 2011, I think we've got a lot of potential there.
"I think we showed we've got a good team. We pulled it together and it took a world record to beat us, so it was a pretty spectacular day."
It was a day of double joy for the Scots in Poland, with Eilidh Child being part of the women's relay team that won a bronze medal.
Both had disappointing run at the team trials and Bowie thought it would help them in their bids for success in Glasgow.
"I don't think it has really sunk in," said Bowie, who this week heads for a warm-weather training camp.
"It is obviously a huge step up and being able to say you're part of a team for the world silver medal is just fantastic.
"We just bounced back from a wee bit of disappointment. Some races allow you to take stock and we both decided for different reasons to carry on the indoor season to the World Indoor Championships and I'm pretty sure we're both glad we did come to Poland.
"In a year when the pressure is starting to pile on with 2014 - Eilidh's got a lot of pressure after winning silver in Delhi and I've got the pressure in terms of trying to make the individual standard - this is a huge boost."