Shinty: Artificial future for fixtures to weather storm?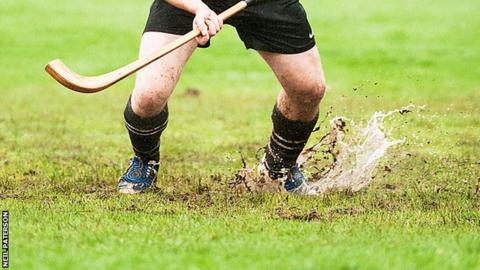 Four weeks into the 2014 shinty season and Fort William are yet to strike a ball.
With atrocious weather hitting most of Scotland last weekend, it came as no surprise to get the call on Saturday morning to say we were "off the hook", as both home and away fields had lochs where centre circles should be.
This has been the slowest start to a season that I can ever remember. My memory is not the best at times, but I can't remember a time when our first four games of the season didn't go ahead, even back when it was a winter sport!
There has been that much rain in Fort William of late that a few of the local joiners have started to build their own arks, just in case.
With 4G synthetic artificial sports fields popping up all over various cities in Scotland, hosting a variety of outdoor sports, would it be unthinkable to think in the future that shinty might also be played on such fields?
Instantly, cost and finance would be a huge factor in accommodating this. However, if, for instance, Glasgow, Inverness and Fort William all had a synthetic sports field large enough to accommodate shinty then the Camanachd Association could fulfil any number of fixtures on such fields if a game was looking unlikely on the Friday evening to go ahead.
The playing surface would not cut up and it would not be a disadvantage to any team whether you were on first or last throughout the day.
Of course, ideally you want to play on your own grass field and gain home advantage when due as often as possible. However, it would be worth trying to create an alternative when lovely BBC Alba weather girl Kirsteen McDonald predicts a fairly dreich weekend.
So what do you think? Would such fields be worth looking at in the future, or do you think shinty is a grass sport so should only be played on such?
Let's hear from you if you have any ingenious ideas on how to possibly protect and or even somehow keep the fields a little drier come Saturdays.
Looking ahead to this weekends action, it's all about the cups as the first round of the North's MacTavish Cup and South's Celtic Society Cup get underway.
The Camanachd Association, however, has introduced some new trophies this year whereby, if you are knocked out of the first round of either competition, you then go into the draw for the new MacTavish Plate for the north and the South of Scotland Senior Plate for the south.
These competitions will run in conjunction with the MacTavish and Celtic Society scheduled rounds.
This is the first time shinty has introduced a second-tier competition and it will be interesting to see how it evolves this season.
If you play sport then you will be very aware, there's nothing worse than getting knocked out early in a competition and subsequently having weekends free with no games. So, in principal, players will, at worst, get at least another one game out of the new second-tier trophies.
The dates of the new MacTavish Plate and South of Scotland Senior finals have not yet been announced.