Picture this: classic images from the world of shinty

By Gary Innes
Fort William shinty wing centre
Last updated on .From the section Scotland0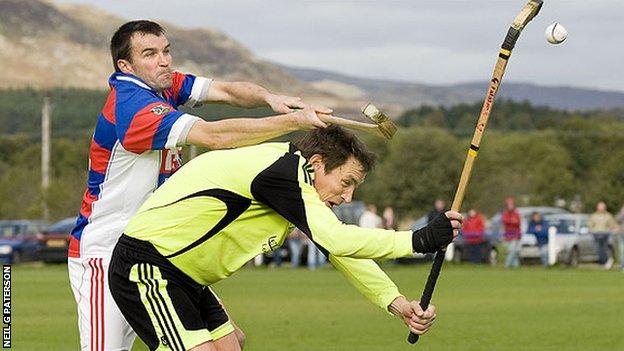 Finally, after four weeks without a game due to a series of postponements, Fort William met Kingussie in the MacTavish Cup first round.
Saturday's game came the day after the Camanachd announced a welcome new sponsor of the MacTavish Cup and Plate competition.
And it's the Plate for the An Aird men after Kingussie progressed with a 2-1 extra time win.
This week, I am asking what in your opinion is the greatest, or your favourite ever shinty photo taken and why?
This could be a photograph of a family member on the wall with their caman, an old picture in a book, or online that you have always liked or admired.
One of the most famous photographs in recent shinty history was taken by the late Donald MacKay, of the great, John Mackenzie of Newtonmore, with his eyes fixed steady on the ball during the 1979 Camanachd Cup final at the old Claggan Park, Fort William against Kyles.
The other player in the picture is Kyles Athletics' Tommy Nicolson. MacKenzie was quoted saying after the picture was published that it was one of the only times he had managed even a yard on Nicolson the whole afternoon!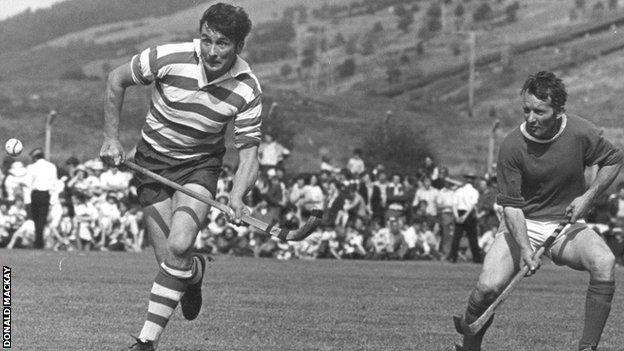 The look of concentration and sheer determination in John's eyes with a back drop of thousands around the old King George Park in Claggan is just fantastic.
Certainly by no means one of the greats, but the Neil G Paterson photograph (at the top) always makes me smile. It's taken at The Dell, Kingussie, with Iain (Corky) Borthwick in close attendance.
As I take the ball down on my caman from the wing, Iain comes through to give me a monk style haircut. You can see by my face I know it's coming and the look on Iain's face is great as he asserts his authority on the match up.
So let's hear about, and maybe even see, some of your favourite photos.
Lastly, I'd like to thank Rachel Forbes at the Camanachd Association for all her hard work and help over the years with many a ridiculous question and request. After six years working as marketing and communications officer, Rachel is leaving this week as she heads for the bright lights of Glasgow to further her career and dance moves.