Ross Murdoch beats Michael Jamieson to Scottish 100m title
Last updated on .From the section Swimming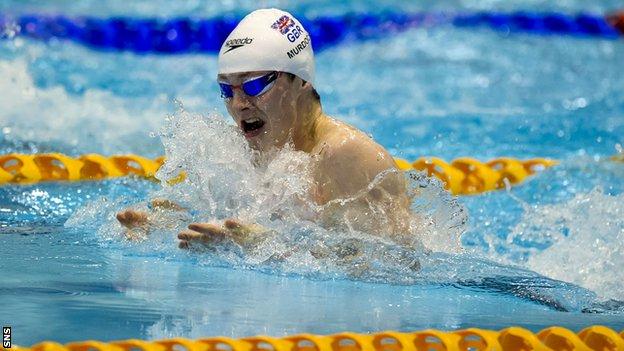 Ross Murdoch edged out Olympic silver medallist Michael Jamieson to win the 100m breaststroke at the Scottish National Open Swimming Championships.
His time of 59.75 was a new Scottish record, while Jamieson had the consolation of recording a Commonwealth Games qualifying time.
Richard Schafers broke his own Scottish 50m freestyle record and easily made the qualification standard.
Hannah Miley won the 400m freestyle and 200m breaststroke.
Those added to the three titles - the 800m free and individual medley at both 200m and 400m - that she won earlier in the meet.
But the latest head-to-head between 50m champion Murdoch and Jamieson, who beat him in Friday's 200m final, was the highlight of the penultimate day of the championships at Tollcross International Swimming Centre in Glasgow.
The University of Stirling 20-year-old Murdoch, who posted a British-record time in winning the 50m title on Thursday, led Bath-based Jamieson - five years his senior and the 200m breaststroke at the 2012 Olympics - from the start to win by just 0.07sec.
However, third-placed Craig Benson just missed out on the Commonwealth qualification time.
Benson's Warrender team-mate, Craig McNally, made up for missing out on the 100m backstroke final the previous evening by winning the 200m final in a time that allows him to be considered for Team Scotland in Glasgow later this year.
"What a relief," he said. "I knew it was a decent time because I'm cramping up right now and that tends to happen to me when I've swum a good race."
McNally was the fastest Commonwealth swimmer in his event at last summer's World Championships in Barcelona.
"I think, with that performance, there are added expectations which could lead to some pressure on me to do well in the summer, but I relish that," he said,
"I like pressure and the extra nerves that pressure gives me, which is ultimately what drives me to do better and post fast times."
The domination of Stephen Milne (Perth City) in the long-distance events continued with victory in the 800m freestyle.
Sian Harkin (University of Stirling) sealed her second qualification time of the meet following her victory in the 50m butterfly final.
Meanwhile, Kathleen Dawson (Warrington Warriors) won the 100m backstroke title.