Grimace and bare it for shinty picture challenge

By Gary Innes
Fort William shinty wing centre
Last updated on .From the section Scotland0
Last week I asked what your favourite shinty picture ever taken was and why.
This could have been an old family photograph or a more recently taken picture and thank you to all your great snaps and comments that I received via email, and social media.
There were some real crackers.
Maybe because it was only taken a few weeks ago and is fresh in everyone's mind, the Neil G Paterson picture below was the one that got the most votes and attention.
Fort William's youngster, Arran MacPhee is getting a whack in the chops from a Kingussie player trying to clear the ball.
You can clearly see Arran's stick snapping half way up the shaft as he smiles for what may have been the last time, and what fine manners the young man has with his hand behind his back to greet the oncoming caman!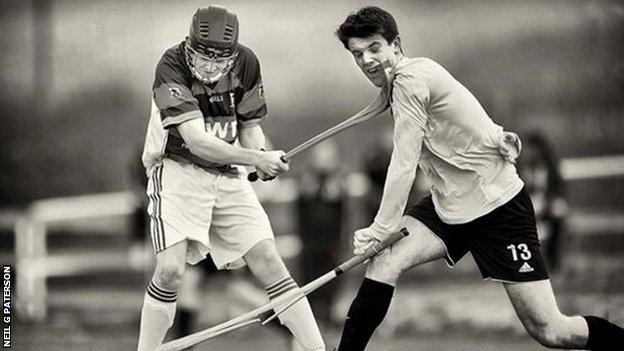 A fantastic picture and another good advert for wearing a helmet...
Thankfully, Arran only sustained some sore teeth and surely an induction into the 'One Second Before Disaster' websites around the world.
Now we're looking for your best 'Chunk from the Goonies' style pictures for this weeks, "challenge, challenge".
While making a tackle or challenge and the opposing player starts their swing, without hesitation or even realizing you are doing anything different, the National 'Gurning' championships kick off right in front of the photographer each time.
Of course, this is a natural instinct when confronted with a large lump of wood hurtling towards you. And it does make for some fantastic pictures.
So lets open up this years shinty gurning championship and see who will take the April 2014 title.
Let's the games begin…