Albion Rovers' price initiative boosts season ticket sales

By Richard Wilson
BBC Scotland
Last updated on .From the section Scotland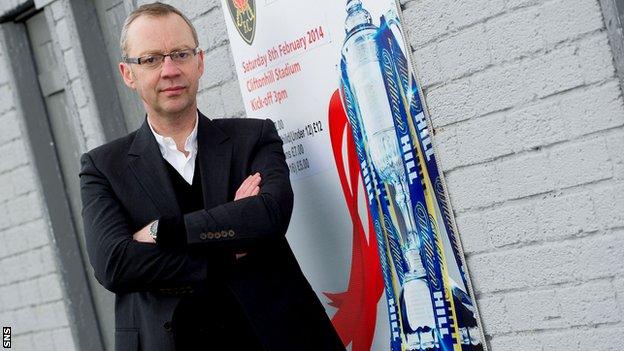 Albion Rovers have trebled the number of season tickets they normally sell, just five days after launching a 'pay what you can afford' scheme.
The Scottish League Two side have received payments from football fans across the world who want to back the initiative.
Many have asked that their tickets are donated to local children and schools.
And although fans can choose how much they spend, there has been an increase in the revenue coming into the club.
They trialled the initiative ahead of a home game against Montrose last January, selling more tickets and raising more money than they anticipated, with fans able to pay for their tickets online.
Having launched their season ticket campaign last Friday, the club have sold more than 300 already, despite only selling about 100 last year.
In the past, the tickets have been sold at £140, with £70 for concessions and £30 for youths, and the average amount that people have chosen to pay this year is around £75.
Albion Rovers chairman, John Devlin, believes the club's hardcore support have still chosen to pay £140 for their tickets, but there have been a number of purchases from abroad, as well as a former Plymouth Argyle director paying £300 each for two season tickets, despite acknowledging that he is unlikely to ever make it up to Cliftonhill.
"I don't think we've ever sold season tickets [in these numbers] before in our history, so it's significant progress," said Devlin.
"It's two things, the pay what you can and the fact that we've made it easier to buy season tickets this year by doing it online through PayPal. For a club of our size, that's quite radical.
"Many of them are clearly donations from people from all over the UK, people who say they will never make it to a game but they like what we're doing and the principle behind it. They want to encourage it and leave a donation.
"We've had other people buy tickets but won't attend a game so have asked if we could give the tickets to local school kids on their behalf. [They are from] Australia in particular, with the ex-pat Scots who clearly aren't going to make the journey over, but we've had interest from Ireland, Aberdeen, the Isle of Wight, Bristol, London, Southampton."
Devlin does not expect to drastically increase the size of Albion Rovers' supporter base in the short-term, or the amount of money that the club generates. The initiative is designed to raise the club's profile and to strengthen ties with the local community.
"My target was to ensure we didn't end up making a loss, which we won't do," Devlin said. "We've exceeded our revenue already within five days.
"I was happy enough to wash my face with the initiative, in terms of the revenue generated, it was more about getting the local community interested in Albion Rovers again, getting kids along.
"We've got lots of ideas up our sleeve about how we're going to keep the community engaged. We're playing a pre-season charity challenge match against our local rivals and neighbours, Airdrie, to try to re-establish a good old fashioned fixture."