Scottish Cup final outcome will depend on tactical ploys

By Richard Wilson
BBC Scotland
Last updated on .From the section Scotland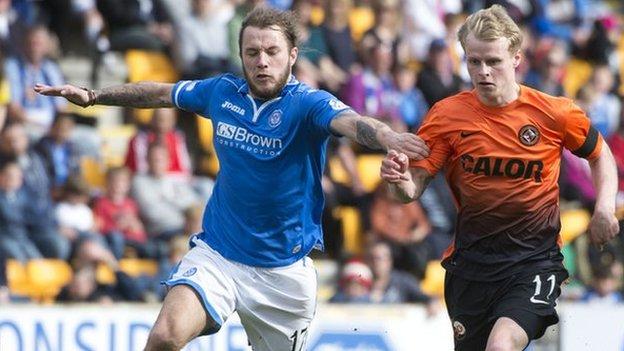 The occasion itself has to be managed, but eventually the Scottish Cup final will become a contest of football ability. Reaching the final seemed to disconcert both St Johnstone and Dundee United, since each has managed to win only one of their five games since then.
Predictions will be necessarily uncertain, because there are no reliable indicators of one or other club being more dominant this season.
United finished two places and five points ahead of St Johnstone in the Premiership, but the Perth side won three of their four head-to-head encounters this season.
There is cause to hope that the teams are well-matched enough for the final to be a rousingly competitive encounter. Here, we consider the three main tactical issues that could determine the outcome.
Can United's defence contain the Stevie May and Steven MacLean double act?
Having established a 1-0 lead over St Johnstone in the semi-final, Aberdeen were entitled to consider themselves in control of the tie. There was no means to contain Stevie May, though.
The St Johnstone striker combines powerful and aggressive running with sharp predatory instincts, while the goading of the away fans - they kept reminding May that he had never scored against them - turned out to be a further motivation as May scored the two goals to take St Johnstone into the final.
Aberdeen's defenders were helpless in the face of May's directness and audacity, and United suffered the same when he scored a hat-trick against them last December.
The wariness can't be contained to May alone, because he is most effective in tandem with Steven MacLean, whose work-rate and clever running creates much of the room for May to operate in. United have adventurous full-backs in Keith Watson and Andrew Robertson, while John Souttar and Gavin Gunning have occasionally been unconvincing under pressure this season.
Which manager will outfox the other?
Jackie McNamara has tended to set-up his team to try to make the most of the attacking talent he can call upon. Nadir Ciftci will lead the line, although not in a conventional sense since he likes to roam out wide and drop deep to engage the play, ahead of a likely attacking trio of Gary Mackay-Steven, Stuart Armstrong and Ryan Gauld.
McNamara has managed the development of his young players adroitly, and the innovation in his preparations will be how he motivates them to perform on this stage.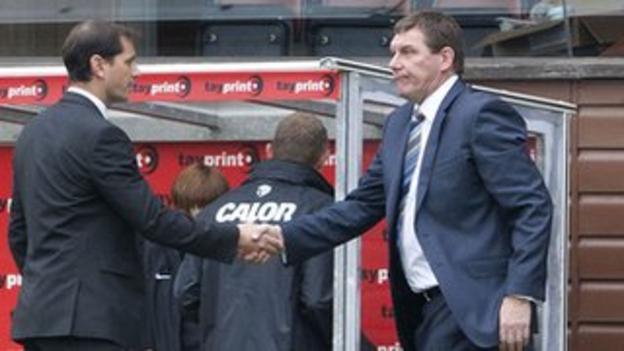 Tommy Wright was decisive enough to alter the shape of his team in the semi-final, because Aberdeen were on top in the game. The adjustment helped St Johnstone recover, and Wright can vary the structure of his team more readily than McNamara.
St Johnstone, for instance, are comfortable playing 4-4-2, but they were overrun in midfield against Aberdeen. United are strong in the centre with Paul Paton and John Rankine, so Chris Millar and James Dunne will need to be similarly robust and effective.
United are most adept on the counter-attack, breaking with speed and incisiveness, so St Johnstone make sit deep to reduce the space for their forwards to play in. That will then demand that they don't leave May and MacLean isolated.
Both managers have options - Ryan Dow has looked lively in recent games for United, while Nigel Floyd Hasselbaink is quick and unpredictable for St Johnstone.
Width with purpose?
Both sides will hope that their players on the flanks find the means to rise to the occasion. Gauld and Mackay-Steven have been considered potential match-winners all season, but there is a tendency to drift into obscurity in games.
Michael O'Halloran and David Wotherspoon are different types of players, more like conventional midfielders than wingers, although O'Halloran has the pace and balance to spread fear as he runs forward with the ball.
The St Johnstone full-backs tend to be less adventurous going forward, so the balance of the wing play of both teams could influence the outcome. The game could be won or lost depending on the effectiveness of the individuals posted on the flank, since both teams tend to deploy solid, uncompromising figures in central midfield.
There are strengths and weaknesses to both teams, so the outcome will be determined by which side is less inhibited by what lies at stake at Celtic Park.