Hamilton v Hibernian: Premiership play-off finale will test nerves

By Richard Wilson
BBC Scotland
Last updated on .From the section Football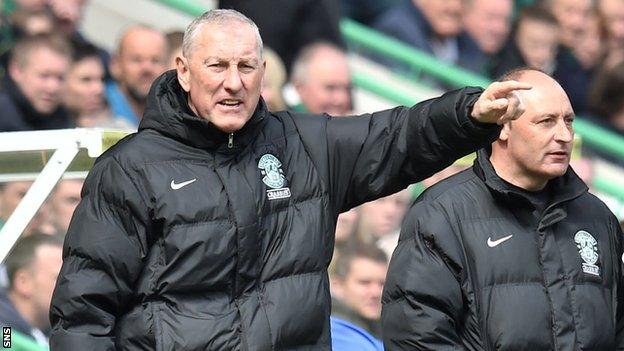 The shortcomings will feel intolerable to Hibernian boss Terry Butcher. His arrival at Easter Road was expected to transform the team, but it was the manager whose fortunes were drastically altered.
Struggling Hibs, second bottom in the Premiership, will have their fate sealed in a play-off with Championship side Hamilton Academical, although it will come as a relief to some around the club that only two more games need to be endured. Miserablism turned out to be the prevailing mood.
At times, it has seemed to invade even Butcher's upbeat nature. The opening months of the season must now seem like a different age to him.
At Inverness Caledonian Thistle, Butcher was a manager in his pomp; the team even climbed to the top of the division and the work being carried out in the Highlands was increasingly substantial.
He left in November, and following a 1-0 defeat by St Mirren last month, Butcher looked like a man weighed down by his uncertainties. The failings of his Hibs team appeared to confound him.
There is still an opportunity to arrest the slide, although expectations are of a fraught experience lying in wait for the Edinburgh side.
If form and confidence could be discounted as influences, then Hibs would be expected to overcome Hamilton over two legs since they ought to have superior players.
The psychological edge lies with the Championship side, though. Hamilton are bringing a record of only one defeat from their last 15 games into these encounters, whereas Hibs have registered only one win from their last 19.
The tie is a second chance for both sides, but only one is welcoming the opportunity. Hamilton are treating the play-off final like a prize, since for them it is a chance to progress. Ambition is the dominant motivation, yet for Hibs it is the fear of losing. Butcher has been adept in the past at managing the attitude and frame of mind of his players, but the task has seemed beyond him on this occasion.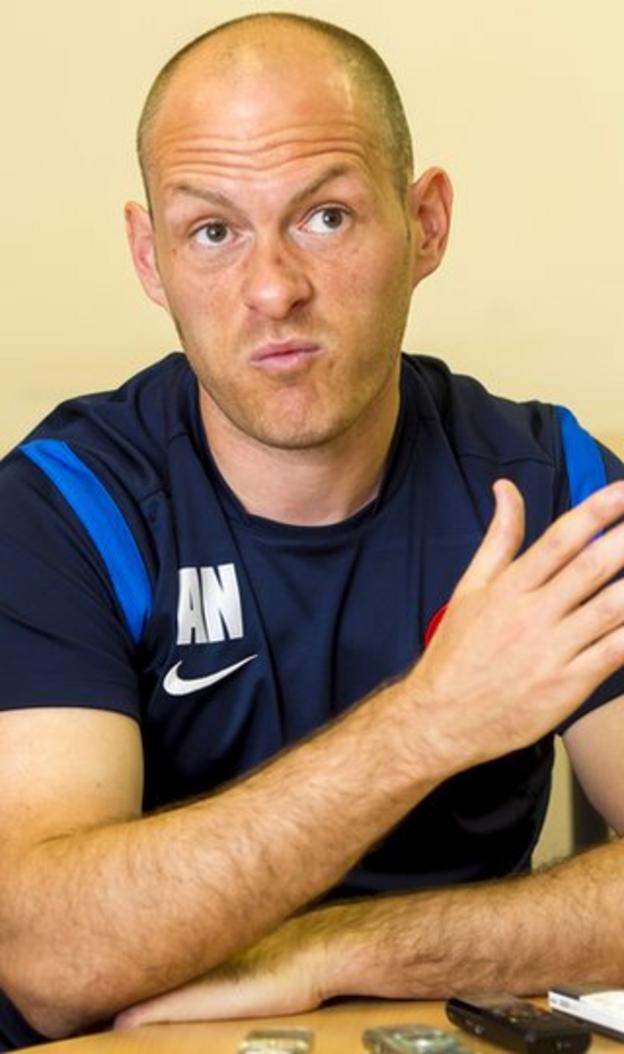 The competitive demands of their respective divisions are different, but it is still telling that Hibs have scored only 31 times this season whereas Hamilton have struck 68 goals in the league.
The attitude at New Douglas Park, where the teams will meet in the first leg, is that Hamilton will be bullish and seek to confront their opponents. The intention is to be aggressive only in their determination rather than their behaviour, but the indication is still of a group of players whose self-assurance and esteem are robust.
Wistfulness seems to capture the emotion at Easter Road, since everybody seems to be hankering after different times. Butcher and his assistant Maurice Malpas do not seem to have connected with the squad in the same way as they had with the players they left behind in Inverness, and there are suggestions of a lack of unity in the dressing room.
Rumours always abound when a team is in a trough, but nobody would be taken aback if Butcher embarked on a clearout during the summer.
That will come regardless of which division Hibs are playing in. Butcher's effect on Inverness was impressive, but it should not be forgotten that there was initially a setback to bear. He took over as manager in January 2009, and the team was relegated four months later.
Promotion was achieved the following season, but there was no immediate turn around. At one stage, Inverness were 16 points behind the league leaders Dundee, but even so the rejuvenation was irrepressible once it began, and it mostly lasted even a change of manager since Butcher's successor, John Hughes, took the team to the League Cup final.
Hibs could embark on a similar journey, and many supporters are reserving their hope for the imminent arrival of Leeann Dempster from Motherwell, who will take over as chief executive at Easter Road.
She has been assured complete control over the running of the club, which is a revolutionary notion in itself since the current executive chairman, Rod Petrie, has long been the sole authority when it comes to decision making. A new status is within reach, but Hamilton can look forward with the same sense of expectation.
The manager Alex Neil has built on the club's recent commitment to youth development and structured, passing football. He is already in line for a contract extension, and the club can be depicted as an organisation that is sure of itself and the path they are taking. There would be no wholesale signing of journeymen if they were to overcome Hibs and gain promotion, since the progress of their academy graduates is always paramount.
There is a financial incentive, since players like James McCarthy, James McArthur and Brian Easton all earned money for the club when they moved on in the past, but also a strong regard for Hamilton's place in the local community. Neil might fret over the decision on whether or not to recall himself to the starting line-up, but otherwise he is content about the identity of his strongest side.
There will be a continuing reliance on the attacking threat of James Keatings, Tony Andreu and Mickael Antoine-Curier, all of whom have scored more than double the number of goals that Hibs' top scorer, James Collins, has managed this season. Neil is a manager who can revel in the challenge and the decisions he will make, while Butcher will consider every choice as potentially ruinous.
The teams are distinguished by their circumstances and their morale. That presents Hamilton with a small edge, because Hibs have so much to lose.