George Burley's Scotland reign was fraught from outset

By Richard Wilson
BBC Scotland
Last updated on .From the section Scotland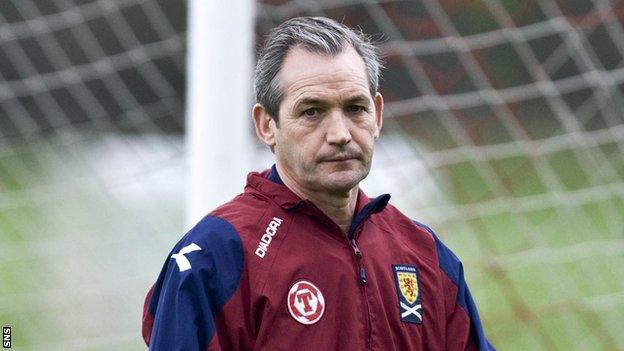 Strife was an immediate companion for George Burley when he took charge of Scotland.
He might even have felt as though he had intruded upon a squabble when he was appointed, since his opening press conference was regarded as an opportunity to settle scores.
The chief executive of the Scottish Football Association, Gordon Smith, spoke up to make a pointed response to previous media criticism about the length of the interview process.
Burley looked bemused, but he ought to have paid close attention to the tone of bickering. Among the coverage of his unveiling in January 2008 was even remarks about his choice to wear a Saltire tie.
"In Scotland, there's always issues," Burley said, speaking to BBC Radio Scotland for its new "Managing Scotland" series, which started on Saturday 23 May. "Seemingly, there was an issue with Gordon, for whatever reason. Another big issue was my auntie gave me the Scottish tie to wear and the press made a great big thing about that.
"You're going into a new job, you've got an open mind. You're excited. It doesn't come as a bigger honour as a manger to be manager of your own country, so I don't think it was alarm bells. It was something I hadn't been aware might happen."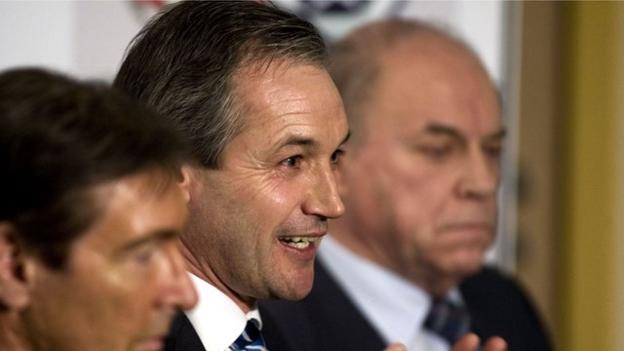 Burley had represented Scotland at every age level and managed in the top leagues on both sides of the border. Even so, that was scant preparation for the often scathing coverage of the national team.
Setbacks regularly imposed themselves. No assessment of his stewardship could absolve him of blame, but there was also an instinctive rejection of Burley.
Before his first competitive match, the opening World Cup 2010 qualifier in Macedonia, one newspaper declared the view that he should never have been appointed in the first place. A 1-0 defeat then prompted more widespread criticism of the decision to play the tie at that time of year, when the temperature was so hot, and of Burley's preparations.
"The draw was made before I was appointed," Burley said. "I didn't have any input into the dates. I wouldn't make the big excuse that it was too warm for us to play because we had to cope with it.
"One of the other issues with the press, they said we should have been there earlier to acclimatise, but then you do that and the players are out there for three or four days in the heat. There were no excuse as far as the heart was concerned when we were stronger in the second half and didn't get the rub of the green.
"I remember before the game there was one national paper that slaughtered myself that I shouldn't have been the Scottish manager. I thought that was unfair.
"That stuck in my throat, because in the eyes of this paper, I was never really given the chance. To do that against your own national team before a ball was kicked, I thought that was totally unjust."
Every decision he made seemed capable of irking somebody. Terry Butcher had been a popular and respected figure in Scottish football for many years, but some were still uneasy with a former captain of England being appointed as assistant manager. Steven Pressley's role as a coach and Tommy McLean's scouting position also did not meet with widespread approval.
Burley does not regret any of those decisions, since he clings to the rationale that he made them for the right reasons. In assessing them, he maintains that there was logic at work, even if the overall sense is of a manager who was not wholly in sync with the mood around him.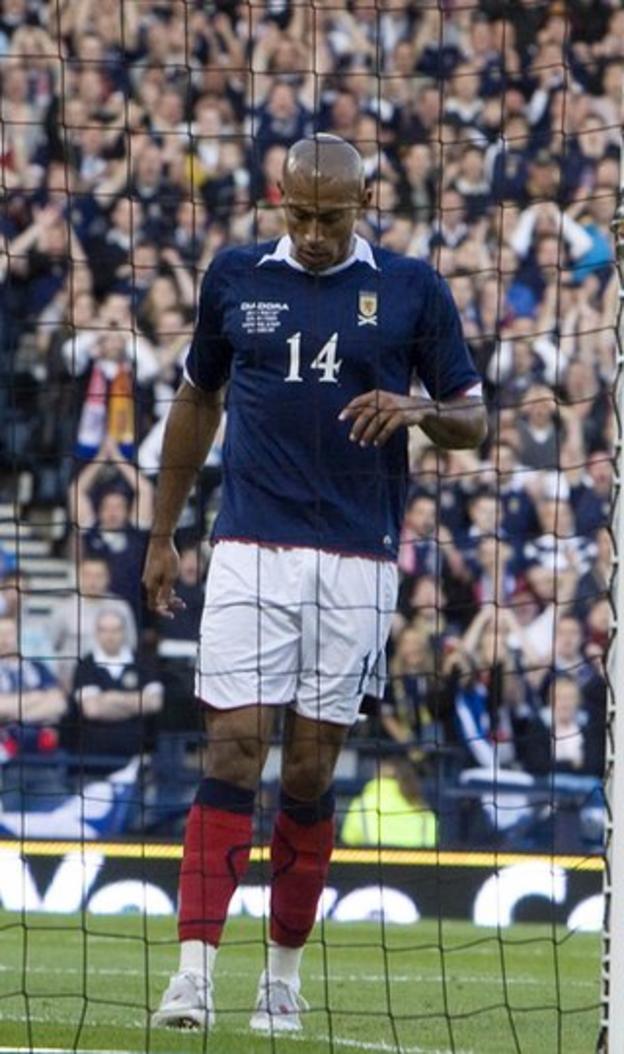 Some players did not engage with his management style. His immediate predecessors, Alex McLeish and Walter Smith, carried a natural air of authority. Burley was less steely in nature and he recognises now that there ought to have been a harder edge to his dealings with the players.
He remains confused by Lee McCulloch's decision to retire from international football before he had even played a game under Burley. The Rangers midfielder later insisted it was a decision based on personal reasons, but it was impossible to escape the sense of a chaotic regime when Kris Boyd made the same decision a month later in October 2008, after he was left on the bench as Scotland drew 0-0 with Norway at Hampden.
Boyd was not always a regular starter for Rangers at the time, but Burley's decision to bring on Chris Iwelumo looked flawed when the striker missed an open goal from only a few yards out. Not every incident can be accounted for, but the fact that Boyd felt compelled to quit the international scene in the hours following the game told of lack of communication between the manager and his squad.
"The Lee McCulloch incident amazes me," Burley said. "He went to a squad gathering, we didn't have a game. We trained once because of the weather. He never played under me and then there were stories that he didn't want to play for me. I hardly had any conversations with him.
"I still can't understand it. He might have heard something second hand from somebody else, I don't know. That was a little bit of a sign of things to come. It's staggering for a Scotsman who says he's very passionate to play for his country to turn his back like that, with no fall out and nothing to do really with what I've done.
"The reason I put Chris on was that he had been scoring goals regularly for Burnley, he was training well. There's no doubt [Boyd] wasn't happy being on the bench, his body language was terrible, so I put Chris on.
"I get a phone call from press man [later that night] saying Kris Boyd doesn't want to play for Scotland again, or doesn't want to play for me. I tried to speak to Kris, he didn't want to talk .He made the decision because I didn't bring him on as a sub, he turns his back on Scotland.
"As a manager, you talk to players, and [with] Scotland I found that more difficult. As a club manager, I'm with somebody every day and they've got to do what I say or it's not going to happen. With players at international level, I found it hard, because they're other managers' players.
"Maybe I should have been tougher, because I [could] see the body language wasn't right. Maybe I should have said, 'Kris if you're not going to be right, don't bother coming'. I made a mistake. I should have been stronger.
"But the way I work, I tend to let people go and play, encourage them and give them more leeway. That was a failing in me. Maybe I wasn't cut out to be an international manager, because I had a lot of success managing [domestic] teams.
"I was brought up with players who had great attitudes and I brought young players up who have had the right attitude. Scotland is a small nation and, if you're doing well with big clubs, the press think you're brilliant, you get that bit of an ego, think, 'I can do what I like', and you don't get the same respect from them. I feel sometimes the attitude's not been quite right."
Burley has not spoken to Boyd since, but that is out of circumstances rather than spite. There was never a formal estrangement between Burley and the nation, but the controversies of his reign accumulated as a body of evidence against his suitability for the role.
He was not personally at fault for the decision of Barry Ferguson and Allan McGregor, amongst other players, to stay up drinking at Cameron House Hotel after the team arrived back from a 3-0 defeat in the Netherlands. Boozegate was primarily the result of a lack of professionalism and maturity by the players, but it also reflected on Burley's lack of authority.
The air continued of a squad that was never fully committed to the manager and his inability to generate that faith or purpose. It was merely compounded when Ferguson and McGregor, having been named among the substitutes for the game against Iceland at Hampden days later rather than be sent home, made v-signs from the bench to press photographers.
"You're coming back late, your fitness coach has told you that [the players] need to have some food for the next game," Burley said. "I didn't mention [going for beers], they went for some food. Then we get up in the morning, you're going in for breakfast and all of a sudden, bang.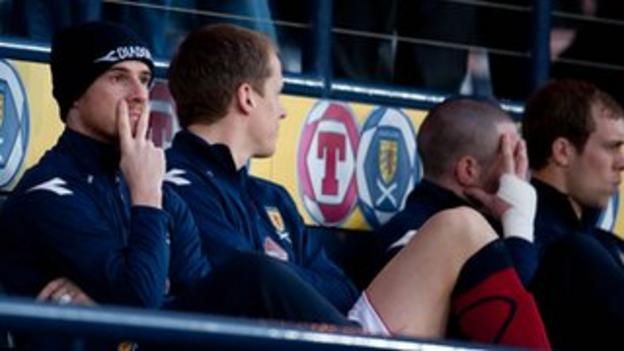 "We spoke about it and the most important thing was winning the next game against Iceland. Do you send everybody who was involved home? I felt we had to look at the game ahead, or else we're not going to get to the World Cup. For me, it was over with, [the players] did wrong, [but] they haven't committed a murder.
"The last thing I said to the whole squad [before the Iceland game] was, 'right, we've been in the news, make sure you don't do anything wrong, go out there, win the game and act in a totally professional manner'.
"It didn't happen and [Ferguson and McGregor] ended up getting banned. People make mistakes, they abuse the position and I'm sure the boys regret it. It didn't do anybody any favours. I'm the coach of the team. They were being disrespectful to myself, really."
The qualifying campaign ended with a 1-0 defeat by the Dutch. Scotland played credibly in the game itself, but the failure could not be disassociated from the calamities of Burley's time in charge. The SFA initially opted to support the manager, but a 3-0 loss in a friendly away to Wales in November 2009, and the angry reaction of the Scotland fans, led to Burley's dismissal a few days later.
He spent 22 months as manager of the national team without ever seeming to fit the position and its demands. Not every error of judgement was Burley's, but he set the tone of the environment around the squad. A 4-0 defeat by Norway was caused in part by the dismissal of Gary Caldwell, for instance, but the series of troubling moments added up to what appeared to be a hapless spell in charge.
"Maybe at times I should have done things differently," Burley said. "I'm disappointed with some of [the players'] attitudes, but that's life. I did things like bringing Terry Butcher in, putting Iwelumo on, and I don't regret that, they were the right things to do.
"Being manager of my country, great; [I was] disappointed in a lot of aspects and the way the press work. But that's Scotland. It's difficult in international football, you need the support of everybody and sometimes that didn't happen."
George Burley was interviewed by Chick Young for Managing Scotland on BBC Radio Scotland. Listen to part two on 31 May, 15:00 BST.