Rangers: John Brown delivers supporters' protest petition to club

By Richard Wilson
BBC Scotland
Last updated on .From the section Football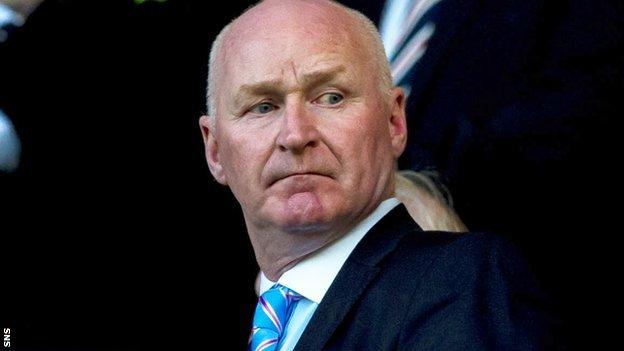 Former Rangers defender John Brown returned to Ibrox to deliver a petition calling for the board to protect the club's property assets.
More than 7,000 fans signed the document, which was handed in for chief executive Graham Wallace.
Brown tried to rally supporters on the steps of Ibrox two years ago, in protest against Charles Green.
He was less confrontational on this occasion, as he joined Sons of Struth in delivering the petition.
The document has been open online for signatures for more than a week, and calls for the directors to "give written legally binding assurances to fans that Ibrox Stadium will not be sold or used as security for any loans".
Sons of Struth, a fans group, created the petition to articulate the discontent among the Ibrox support against the way the club is being run. SoS are members of the Union of Fans, a coalition of supporters groups who met Wallace and other directors two weeks ago.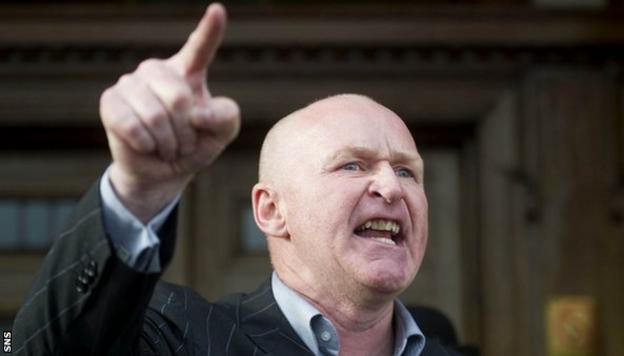 Those talks raised the prospect of a legally-binding undertaking being offered by the board to protect Ibrox and Murray Park, but discussions broke down and the two sides remain at odds.
The club is currently offering season ticket renewals, but no figures have been released about the number who have retained their season tickets. Many fans seem disenchanted with the way the club is being run and have opted against renewing.
"It's just to let the board know that the fans want to secure this stadium and give them a visual impact on that," said SoS organiser Craig Houston.
"The board have still not released - as they had promised to do - the season ticket sales, so nobody is sure how many have renewed. We just decided this would give people the chance to publicly say that they've not renewed and why.
"We had what seemed to be a constructive meeting, where there was dialogue and negotiation and compromise. When we left that meeting we felt we had an agreement in place with the board.
"For the board to not even contact us by phone or by email to tell us that they maybe need further negotiation or it was just simply not going to happen was quite disappointing. To hear about it two or three days later from a public statement was most surprising.
"If you walk round the stadium or open the emails from the club, there seems to be this slogan: 'Ready To Listen', but that's debatable. I don't know who they're listening to, but they're certainly not listening to the vast majority of fans who are wanting to secure Ibrox and others who are not happy with the way the board is made up at present.
"As a fan, I've not got £20m to buy the shares that need to change hands. As a fan, you can only make a noise and do visual things as you do at a football match. But rest assured that over the summer, we'll certainly not be stopping just because the football has stopped; we'll continue to create noise and be visual.
"It's very frustrating, very peculiar and very worrying that they can't do something when they're adamant they're not going to [sell the stadium or use it for security]."