Rangers fans seek access to season ticket sales figures
Last updated on .From the section Rangers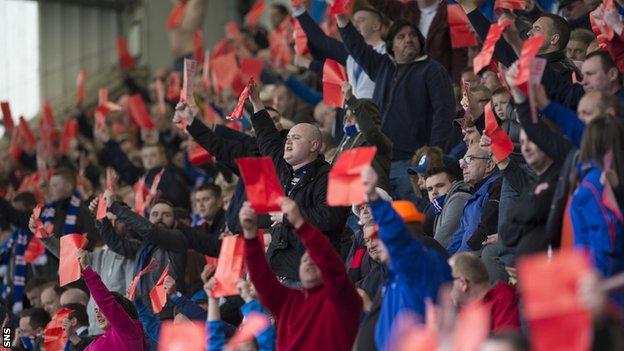 A Rangers supporters' group has called for the club's board to reveal how many season tickets have been sold.
The deadline for renewals passed two weeks ago and the rate of sales is critical.
Directors have previously admitted that a drop in renewals would affect the business's ability to trade as a going concern.
The Union of Fans group has been urging supporters not to renew in protest against the current board.
Before the deadline, Rangers admitted that sales were slow and directors even met with members of UoF, a coalition of various different fan organisations, to try to broker a compromise.
UoF has been advising fans to pay their renewal money into the Season Ticket Fund, an initiative backed by former Rangers captain Richard Gough and former Ibrox director Dave King.
The intention was to only pay the money to the club in return for security over Ibrox Stadium and Murray Park.
It was claimed Rangers' chief executive Graham Wallace raised the prospect of the board offering legally binding guarantees not to use the property assets as security for loans or to sell them, but talks subsequently broke down.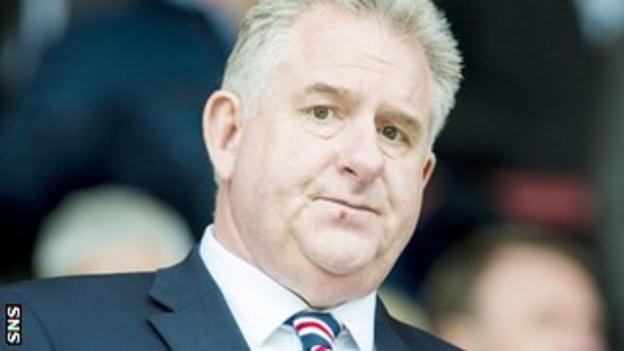 When the club released their interim results in March, the directors acknowledged that a fall in renewals from last year's sale of around 38,000 would leave the business short of enough income to trade for the next 12 months, although Wallace has been adamant that Rangers International Football Club will not fall into administration.
A £1.5m loan from two shareholders - Sandy Easdale and George Letham - is due to be paid back as soon as that amount is raised from season ticket sales, but neither is thought to have received their money back yet.
"We urge chief executive Graham Wallace and the board to come clean about how many season tickets they have sold and how much cleared income in the bank these sales have provided," said UoF in a statement.
"If and when the cash figure reaches £1.5M, the board, as they announced to the Stock Exchange when the loans were negotiated, must immediately pay Sandy Easdale £500,000 and George Letham £1m.
"For the avoidance of doubt, if these loans have not yet been repaid, it means that the board have not yet secured £1.5m of season ticket money or they have broken the repayment terms of these loans.
"We would ask the board to make a clear statement of the number of fans who have renewed to the AIM market in order that supporters and shareholders can rely on the accuracy of the figure given.
"This is a matter of grave concern for shareholders and supporters alike and we also believe it must be something which is being monitored by auditors, Deloitte.
"When we met Graham Wallace on 14 May, he once again reiterated that there was 'no possibility of administration'.
"We would therefore ask him to make it clear how the club plans to operate at what we believe is a greatly reduced level of season ticket sales."