SFA says Fifa president Sepp Blatter should stand down in 2015
Last updated on .From the section Football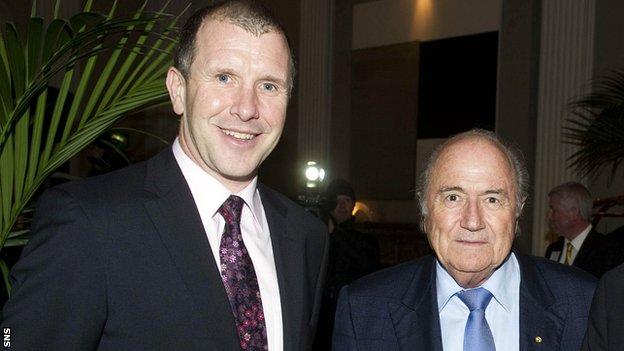 The Scottish Football Association wants Fifa president Sepp Blatter to step down at the end of his current term.
Michel Platini, his counterpart at European governing body Uefa, will not support Blatter at the 2015 election.
And chief executive Stewart Regan says the SFA continues to hold the view that a change in leadership is needed.
"As Uefa president Michel Platini stated, Uefa members gave their support to Mr Blatter in 2011 on the proviso that this would be his last term in office," said Regan.
"The goalposts have now been moved on this issue.
"In 2011, Uefa members made it clear that we believed that a change of leadership was needed at the end of Mr Blatter's current term. The Scottish FA continues to hold that belief."
Claims over the bidding process for Qatar 2022 have put pressure on Blatter and Regan said at the weekend the SFA would wait before making a "more informed" view on the issue.
But the SFA chief executive insists the organisation's stance on the need for new leadership at Fifa goes back some time.
"As I said following the meeting of the Fifa Congress, the Scottish FA was one of a small number of, mainly European, associations that voted in favour of proposals to impose an age limit and maximum number of terms on Fifa presidents," added Regan.
"The proposals were rejected by the majority of members.
"Uefa must now consider whether to put forward a candidate for the Fifa presidential elections in 2015."
And, speaking to BBC Scotland, Regan insisted organisations need to "modernise" and "restore faith in" Fifa.