Levein admits fallibilities in his approach to the Scotland job

By Richard Wilson
BBC Scotland
Last updated on .From the section Scotland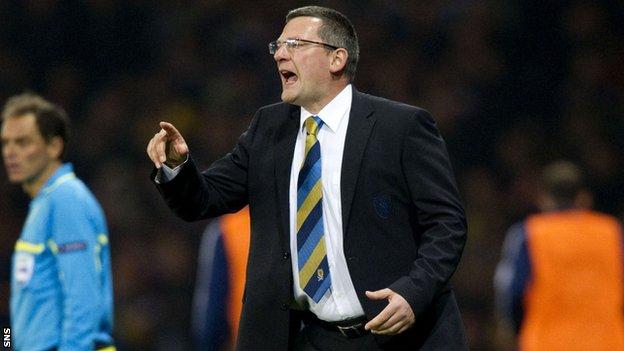 International management began as a conundrum for Craig Levein.
There is always an adaptation to be made when the daily chores of club football are left behind, but it took Levein longer to come to terms with the effect on his own sense of authority.
Circumstances were no ally. He was appointed successor to George Burley in December 2009 but the opening nine months in the job only brought two fixtures.
These friendlies, against the Czech Republic and Sweden, resulted in a victory and a defeat respectively, but also a bout of introspection.
Levein found, in the build-up to those two games, that the job did not allow the room for imposing himself that he had been accustomed to at club level with Hearts, Leicester City, Raith Rovers and Dundee United.
The players were adjusting, too, and the consequence was a moment of confrontation with James McFadden during half-time of a laboured 2-1 win over Liechtenstein at Hampden, only Levein's fourth game in charge.
"I'm a huge fan of [McFadden's] abilities, but as a manager, you want to feel that when you go out on the field you know what you're going to get from your players," Levein said.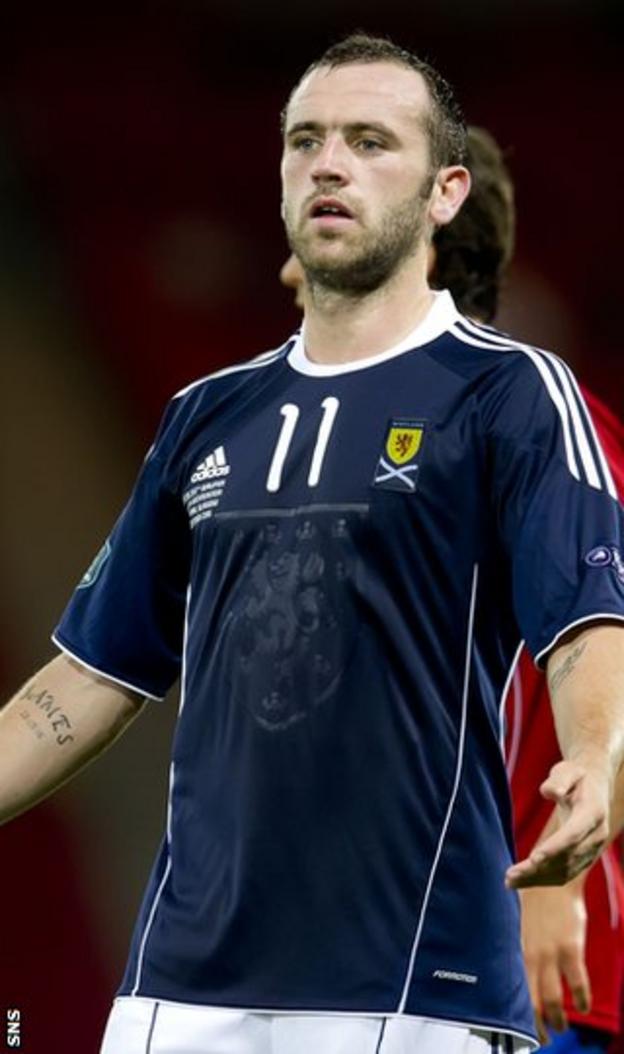 "At that point, I didn't, and that causes a little bit of anxiety. You're always pushing and trying to find the right formula and in that game, James just didn't play particularly well. I had a go at him, and maybe his performance wasn't as bad as I perceived it to be, but it was frustration more than anything else.
"I had a few problems early on, before the Euro [2012] campaign even started. There were bits and pieces of problems within the camp. I found it quite strange. At club football, you have control over what's going on.
"In a situation where you don't own the players, you're borrowing them, you have to be a lot more careful with what you're saying. I found that a little bit alien. Normally I'd be in with both feet sorting it out, where I was a little bit more standoffish.
"To get the players onside, you need contact time, you need to be able to speak to people on a regular basis. I should have gone in and sorted out things before that."
McFadden and Kris Boyd, who was also criticised by Levein for his effort during the Liechtenstein game, were never formally estranged. Levein did, though, alienate a tranche of the Scotland support.
As a consequence of the disjointed nature of international management, and Levein's wariness to fully trust in his players when he did not yet feel that he fully understood all of their characters, he focused instead on the team's strategy.
There might have been an element of filling the down time that he was still not used to by over-thinking Scotland's requirements. An away trip to the Czech Republic was not the most daunting assignment, after all, but Levein adopted an unexpected approach.
He had been struck by Barcelona's use of three attackers playing in withdrawn positions in the Champions League, and sent Scotland out in a 4-6-0 formation. Levein was pilloried, and admits now that the tactics were flawed.
"I put attacking players in defensive positions in the hope that when we got the opportunity we could break forward and try to get a goal," Levein said.
"The decision was based on me lacking confidence in the players at that time. Did it work? No. I can't say it did. Having had the experience of hindsight, I wouldn't have done it. But at the time I thought it was the right thing to do.
"Okay, it's a bit of a radical decision to not play any strikers, but when I looked at it, Kenny Miller was unhappy and after that I didn't have an awful lot of choice. So I thought, 'why not give it a go and see if we can get a point out of the game'."
Scotland lost 1-0, although the greater damage was a lingering dismay amongst the Tartan Army about the manager's decision-making. That alarm was heightened when it became clear that Steven Fletcher was also a casualty of that night's tactics.
The striker smarted at being dropped from the squad, and reacted to being called up for a friendly in February 2011 by texting a member of the backroom staff to say, "tell him I don't want to play".
Levein's inclination is always to stand his ground, which led to him and Fletcher refusing to back down.
Even as the striker moved to the Premier League with Wolves and Sunderland, and Scotland became too heavily reliant on Miller as the sole forward, there was little intent from either side to reach a compromise.
It took until October 2012, as Scotland were toiling in their World Cup qualifying campaign, for a truce to be reached.
The delay was damaging to both, since Fletcher lost out on a significant period of his international career and Levein was approaching the end of his time in charge as the team faltered in key games.
"That's something I regret. I am stubborn," Levein said. "I took umbrage at [Fletcher's text message] obviously. He doesn't want to play for Scotland and I got a little bit defensive about that.
"At a club, the player has to come to me because the club pays his salary. If I don't pick him, he can't play. In international football, you don't control the players. I probably never got my head round that, you borrow them.
"[When] I got word that he might want to play, I made the moves to get in touch with him. I really like him, he's a smashing boy.
"We had a good chat and I said, 'I'm sorry for how this has come around, this is just me digging my heels in thinking I'm doing the right thing'.
"Maybe at that point I'm thinking that my personality in this role doesn't quite fit, I need to have things working the way I want them to. Again, I regret it, because I like him and I would have liked to have him in the squad previously.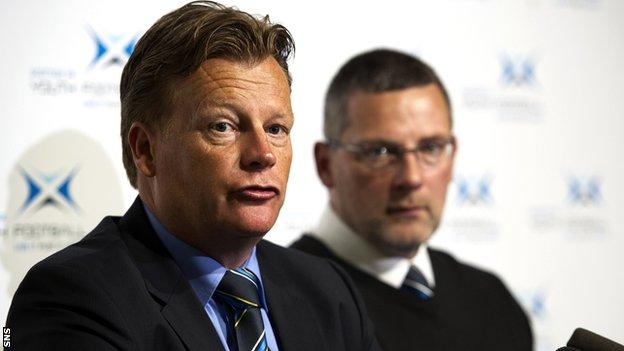 "You can't change your personality, and it's worked for me throughout my career. But international football is different and my diplomacy skills maybe aren't as good.
"If I had my time again, I would be much more relaxed about it. It's not a job that you need a huge amount of intensity for."
Levein lasted almost three years as Scotland manager, although at times it seemed like an ordeal.
He was integral to the appointment of Mark Wotte as performance director and establishing a performance and development strategy within the Scottish Football Association.
Ultimately, though, he left the job with a better understanding of his own nature.
"Without doubt [he would do things differently now], but that's my personality and maybe I'm not cut out to be a manager who doesn't get the control to be able to work things the way I need to work them," Levein said.
"I made numerous mistakes and if I had my time again would I make them again? No, but I don't know that I'm going to get another shot at it."