Hibs: Alan Stubbs will seek to inspire rather than overhaul

By Richard Wilson
BBC Scotland
Last updated on .From the section Scotland25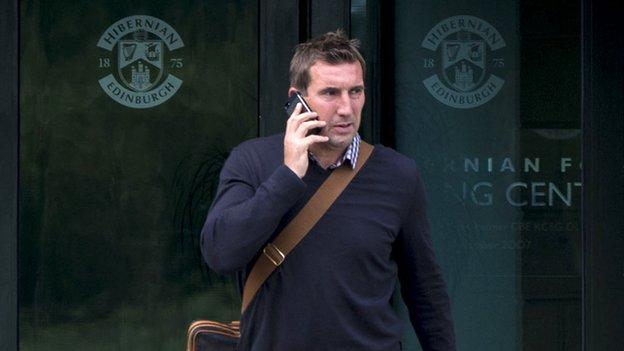 Alan Stubbs has been appointed head coach at Hibernian to restore the club.
It might not seem a task best suited to a managerial rookie, but he has long-established views on how to approach the role.
A spell in charge of Everton's Under-21 side provided justification for his managerial ideas. Stubbs is fully qualified as a coach, and recognises the importance of tactics, technique and strategy in the contemporary game, but he will not arrive at Easter Road as an idealist.
He recently remarked that "we can get too wrapped up in philosophies and formations". His style, he said, is simply to try to win games, the kind of blunt declaration that one of his previous managers, Martin O'Neill, would deliver.
Stubbs once reflected that one of O'Neill's great strengths was that he could connect with players on an emotional level. Having played under the Northern Irishman at Celtic, Stubbs ought to know how the best of O'Neill's work was carried out.
"The days are gone of ranting and raving, leading by fear," Stubbs said after becoming a coach at Everton.
"I'd like to think I know how players work, what makes them tick. I know the pressures, all the things that you have to juggle. But I feel that I can be good at that, and understanding."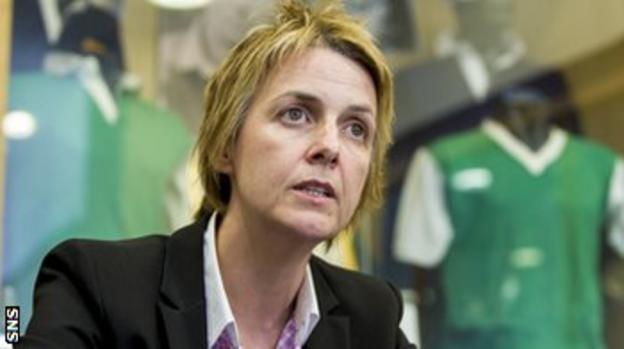 His commitment to the game is wholehearted, but his approach to taking up a role in management has been carefully considered. There was no rush, for instance, to the first position that became available.
Stubbs felt it was necessary to gain a grounding in coaching and leading a dressing room, despite having played at the highest levels in Scotland and with Everton in England. He began working alongside Andy Holden, the Everton reserve-team manager, before being put in charge of the team himself five years ago.
The Goodison club became a place that grounded new managers while Davie Moyes was in charge of Everton. His former assistant, Alan Irvine, had a spell as Sheffield Wednesday manager and was appointed West Brom head coach earlier this month.
Davie Weir began his coaching career at Goodison, before a short, unsuccessful spell in charge of Sheffield United and now an assistant's role at Brentford.
Stubbs had always intended to work in tandem with his former Everton team-mate David Unsworth, who was also his number two with the Under-21s, but Hibs may want to retain some of their own coaching staff.
The dynamic between Stubbs, Hibs chief executive Leeann Dempster and the newly-installed head of football operations, George Craig, is key.
The club's intention is to implement a European-style hierarchy, in which the head coach has control over the first-team but every other aspect of the club is run by others, so that continuity is maintained whenever the head coach departs.
Stubbs will need to be comfortable working within this scenario, but it should no longer seem an imposition to British coaches. Clubs, in the main, no longer want to be vulnerable to intermittent periods of significant upheaval.
There is also a mood within Easter Road to promote youth development.
Hibs, in particular, have suffered from a series of regime changes that have resulted in a period of inconsistency. Every manager sought a change in personnel that allowed short-termism to prevail. Even Terry Butcher, almost from the moment he arrived from Inverness Caledonian Thistle last November, was intent on a radical change in playing resources this summer.
It was a consequence of his inability to revive the team that Hibs are now in the Championship and he is now out of a job. A rebuilding process needs to begin immediately under Stubbs, and his among his first priorities is to assess the players who were previously told that they could depart.
Some will not want to adjust to reduced wages in the second-tier, but squad building is essential for Stubbs. Dempster and Craig need to think longer-term, and ensure that the head coach is working within those parameters, but it is Stubbs who will be judged on the team's attempts to gain promotion.
He displayed great strength of character, as well as physical resilience, to recover from two bouts of surgery after it was discovered that he was suffering from testicular cancer during his time at Celtic. His instinct has always been to reach for humour, and once enthusiastically told about his team-mates lobbing golf balls into his room during away trips after his first operation, to remove a testicle.
His second surgery was to remove a tumour at the base of his spine. The procedure involved his stomach and intestines being moved to allow access, and he was on the operating table for around eight hours. Stubbs was expected to stay in hospital for more than a month to recover, but instead returned home after three days.
That period of his life will not shape his perspective as a football manager, because for all that the game can obsess those who work in it, there is never any sense that it is all-consuming. Stubbs has always believed that the way to work with players is to influence them and manage them on a human level, not be distant.
There is an element of hard-headedness to him, though. He once left Everton because Moyes offered a one-year deal when Stubbs believed he ought to sign on for another two seasons. The two men were too stubborn to compromise, only for the defender to end up returning six months later.
Stubbs will change the Hibs squad in a measured way. There will be a realisation that to make the most of this opportunity, he has to be resourceful and inspiring, since canniness in the transfer market is less important when recruitment is a group activity.
This is an opportunity for Stubbs to establish himself, but also for the club to rethink its approach. Dempster has a good track record on appointing managers from her time at Motherwell,. Stubbs is young, a well-educated coach and somebody with strong ideas about how to approach the job.
A division that contains Hearts and Rangers will not daunt him. Nor will working at a club that still carries an air of turmoil while fans campaign for the removal of the chairman Rod Petrie. This is a challenging task, and Stubbs will need to show that he can manage all of its demands.