Kilmarnock hopeful of keeping Boyd but Rangers in the hunt

By Richard Wilson
BBC Scotland
Last updated on .From the section Scotland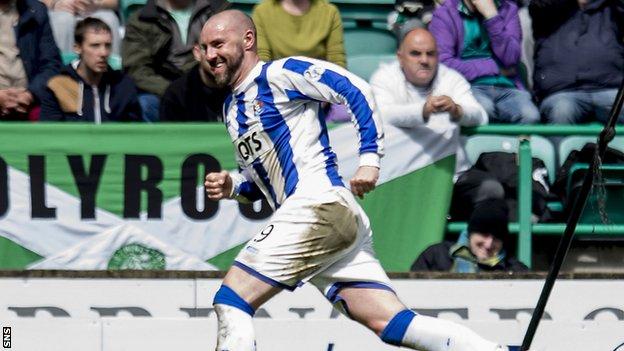 Kilmarnock manager Allan Johnston has not conceded defeat in the club's attempts to retain Kris Boyd.
The striker has been offered a new contract at Rugby Park, but he has also been holding talks with his former club Rangers.
Johnston believes that the player's future will finally be resolved in the coming days.
And he is adamant that for the sake of both Kilmarnock and the player, the uncertainty should not drag on.
Boyd left Ibrox four years ago, and it is believed that he would favour a return to the club he grew up supporting. if the financial package is acceptable. Aberdeen, Dundee United and the French side Nimes are all understood to have made offers to him, though.
The former Middlesbrough, Nottingham Forest, Eskisehirspor and Portland Timbers striker lives in Ayrshire, and his family are not keen on uprooting again, which gives Kilmarnock and Rangers an advantage in discussions.
"We're still hopeful," Johnston said. "We're still talking. I know it's going to be difficult when clubs like Rangers are talking to him.
"Obviously, financially we've got no chance when clubs like Rangers are involved. He really liked his time here and hopefully we can still attract him back.
"Kris is the same [as Johnston], he's desperate for something to get sorted out. He doesn't want the same situation as last year when you go into pre-season and he's still not got his contract sorted. I think we'll find out one way or another in the next couple of days.
"There are a few clubs [keen to sign Boyd]. Aberdeen and Dundee United have expressed a lot of interest. He's a Kilmarnock boy so hopefully that helps us attract him."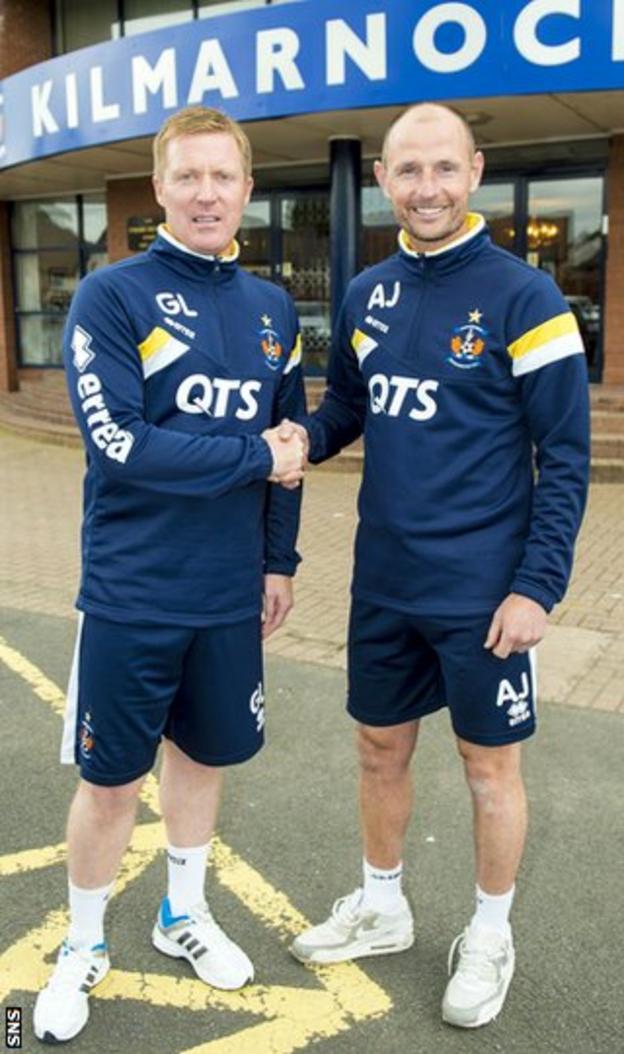 Johnston is pursuing other signings, and has been linked with a move for former Dundee United and Blackburn striker David Goodwillie.
The intention was to pair him up front with Boyd, but Kilmarnock have other options. The intention, though, is to restrict the number of new signings so that the limited funds can be utilised to sign better quality players.
"We're talking to loads of players," Johnston said. "What we're trying to do is cut down the amount of players we have and maximising the budget we have by just bringing in a few players but quality players to benefit our good young players who are coming through.
"You want to get your squad in place, but it's difficult because everybody wants better money and a lot of teams are competing against each other.
"It's going to be exciting [this season]. We've got to be trying to finish in the top six, we just need to make sure that we get the right players in to get there."
Johnston also welcomed the addition of Gary Locke to the coaching staff at Rugby Park. Locke was sacked by Hearts at the end of last season and Johnston moved quickly to recruit his former teammate as assistant manager, following the departure of Sandy Clark.
Although Locke was manager at Tynecastle last season, he had no qualms about taking up a role as a number two. He also believes that he is better equipped for the job after managing Hearts through the turmoil of administration and a points penalty that effectively ensured that the club would be relegated to the Championship last season.
"I don't see it as a huge step backwards going from a manager to an assistant," Locke said. "You're still very much involved with the first team, which is what I wanted to do. Hopefully me and Allan can forge a very good management team.
"Kilmarnock have a lot of good young players and I'm really looking forward to getting on the training field with them. You can only improve with everything I faced last year.
"I did the job to the best of my ability, we had a good season and hopefully I can take all of those credentials into the job here.
"A lot of people appreciated the job I did [at Tynecastle], which was very humbling. I came out of it a better person, and I've certainly learned a lot in terms of the management side of the game."