Walter Smith managed to lift national pride in curtailed reign

By Richard Wilson
BBC Scotland
Last updated on .From the section Scotland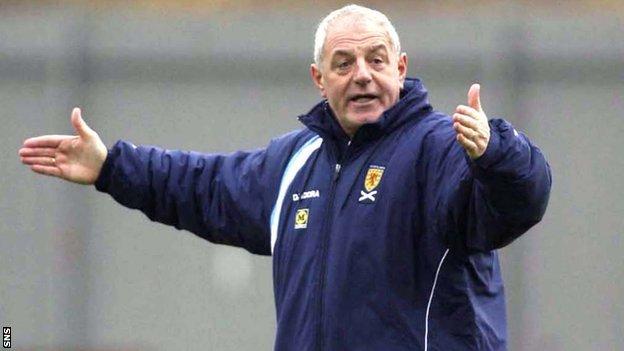 The national team had already been pivotal to Walter Smith's career even before he took over as Scotland manager. A period working alongside Alex Ferguson at the Mexico World Cup in 1986 was insightful, although Smith already had a grounding in the demands of international football.
He had spent eight years assisting Andy Roxburgh with the national youth teams, which included guiding Scotland to victory in the European Championships in Finland in 1982. Those experiences turned out to be helpful when he was appointed in December 2004 as successor to Berti Vogts.
Nonetheless, it was Smith's instincts that were immediately shrewd. His first decision was to ask the late Tommy Burns to continue as assistant manager, despite the sense amongst fans and the media that outright change was needed.
Smith and Burns has been opposing Old Firm managers, but the new Scotland manager's decision was based on his assessment of Burns as a manager and a coach, not a sensitivity towards how Celtic fans might react.
"I didn't really know him as a person," Smith said. "We'd meet football-wise while he was manager of Celtic [but] you're never close as [Old Firm] managers, you have to keep looking at the other manager to see what he's doing.
"If I looked at the way that Tommy handled his team, it was a good mix for me. I'm maybe a bit more pragmatic, whereas Tommy had this philosophy of attack and play. He was that type of player. It was nothing to do with the Rangers and Celtic thing.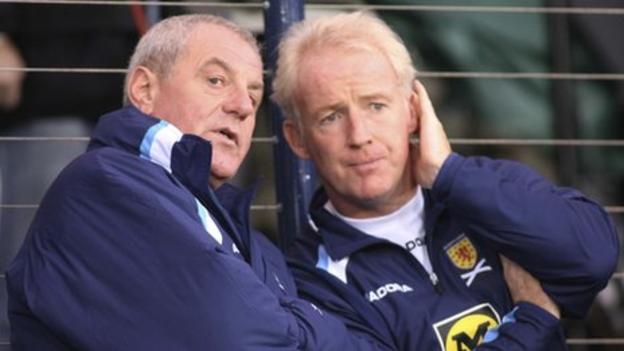 "The first thing I did [was] ask if he would continue as assistant and he said he'd be delighted. I was delighted when [Ally McCoist] accepted as well. We kept the rest of the staff that was there.
"What I didn't know at the time - McCoist has a bit of chaos around him in terms of time-keeping, he's not the most organised person - Tommy was exactly the same. I used to say to them, 'right, we'll have a meeting at Hampden at three o'clock', and it started at four. They'd bring in cream cakes and cups of tea, and we got on really well.
"Tommy and Alastair created a terrific environment in terms of making sure that when players come on international duty, they thoroughly enjoy it."
The chemistry between the three men was effective, even when Burns could not pay full attention to one of Smith's team talks, ahead of a qualifying match against Norway.
"We had very little chance of qualifying for the World Cup, but when I was doing the team talk, I thought I would give the boys the last rousing speech. So I'm doing the full Churchillian bit, I happened to look down and there in the front row my assistant manager was sleeping.
"I stopped and the silence caused him to start, and he looked up. I said to him, 'well if that's the effect the talk's had on you, God knows what it's going to be like on the rest of them'. But we managed to get a good result. That was Tommy, he was a brilliant character, fantastic.
"Unfortunately, I only got to know him during that time and while I still feel fortunate that happened, I'd like that to have lasted a lot longer. He was a terrific man."
After the sense of chaos around elements of Vogts' management of the national team, Smith brought a sense of calm and order. Burns and McCoist worked well with the players on the training field, while Smith set about trying to create a spirit and unity that would be similar to the bonds created at club level.
He also brought to the job the view that friendly matches were not always helpful, particularly while trying to develop good working relations with club managers. Smith often eschewed potential friendlies in favour of taking players away for training camps.
One consequence, along with a sense of camaraderie, was that Scotland climbed the Fifa rankings.
"When we took over, I think we were 86th in the world and the president of Burkina Faso declared in one of the morning papers that he'd challenge us to as game," Smith said.
"What I didn't know was that if you don't play friendlies then you can move [up] because you're not losing. You make progress through not getting beaten. It's a good ploy and one I capitalised on to take us to 21."
An end of season trip to the Far East to compete in the Kirin Cup led to Smith calling up players who had been on the fringes of the squad that he had established. It might have been an inconvenience for some to rearrange their holiday plans, but it was also an opportunity.
Graham Alexander, the defender, had been due to go on a cruise with his family, but chose instead to accept Smith's invite. He ended up playing his way into the starting line-up of the team that ended up winning the competition - Scotland's first trophy since winning the Rous Cup in 1985 - but also into future squads since he became a fixture in the side.
The 2008 European Championship qualifying campaign became a daunting prospect, since Scotland were drawn in a group with Italy, France - who had just played each other in the 2006 World Cup final - and Ukraine. It did provide Smith, though, with one of the most memorable games of his managerial career, when he led Scotland to a 1-0 win over France at Hampden.
"It was horrendous," Smith recalled. "Nothing more can be said about that. I can remember going to the dates meeting, [and] at the end of it I said, 'it doesn't really matter for us'. If you've got Italy, France and Ukraine in one section, you've got a difficult task.
"At the time, although France had lost the World Cup previously, they were number one in the world. It was a huge game for us and the boys were fantastic. Everything they were asked to do, they got together and did it.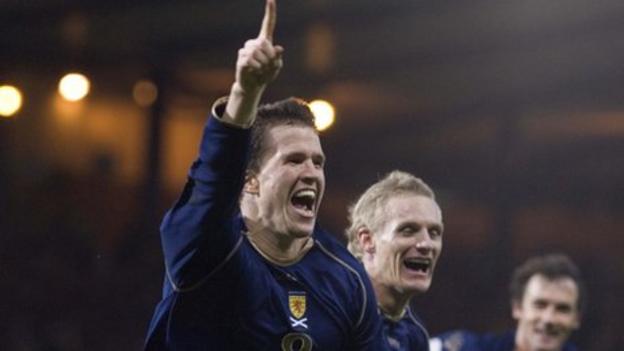 "That game at Hampden I will always remember. It was a fantastic atmosphere and everything in the game went for us. Even before the game, we knew France were weak on set-plays, and we managed to get a goal from a corner through Gary Caldwell. It was a fantastic feeling."
Having restored a sense of unity and purpose to the squad, a setback could be borne. Scotland lost their next match, a handful of days later, 2-0 in Ukraine. Optimism remained, but then Smith received a phone call from David Murray, the chairman of Rangers, to ask if he would return to Ibrox to manage his old club again.
In January 2007, Smith took the difficult decision to leave the Scotland job for Rangers. Having supported the club since childhood, the emotional pull was too strong, even if Smith did feel uncomfortable about the timing.
"That was probably as awkward a decision as I've had to make in my career. I would love to have finished off the section, and if it had been any other club I wouldn't have gone," Smith said.
"We were doing really well and I didn't want to make it feel as though I was letting people down. I'll always have regrets; not for the reasons I was leaving to go back to Rangers, but that I was leaving at a time when I would have liked to have fulfilled the qualifying [campaign] before making a career decision.
"I appreciated then that you were letting down a lot of people, but at least I hope they would consider what the team was like when I took over and that I brought back a bit of pride to the country football-wise.
"I supported Rangers as a wee boy and they will always have a huge pull for me. I would hope [fans] would understand, but then again one of the north east [Tartan Army] groups gave me a presentation kilt, and the boy wrote to me asking for it back. I don't blame him for doing [that]."