Steven Naismith backs his old youth team with sponsorship

By Richard Wilson
BBC Scotland
Last updated on .From the section Scotland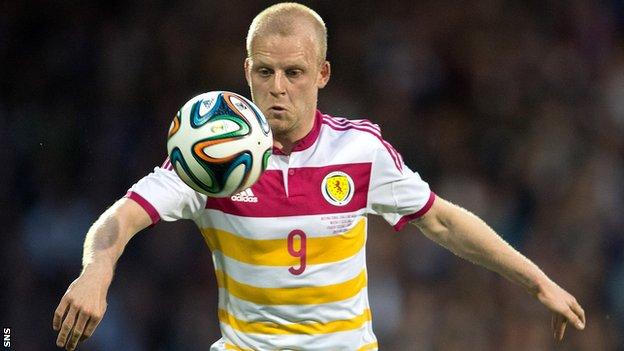 Locally, it is known as The Centre. Inside, next to the sports hall where generations of Stewarton children have learned how to play football, two rooms are crammed with memorabilia.
Look hard enough at the photos that cover the walls of one room, and you will find pictures of Chris Iwelumo and Jamie Hamill, who both developed at Stewarton Annick football club.
A very young Steven Naismith is also in two or three photos, and the other side of the room is full of his memories.
Signed Scotland jerseys, boots, pictures, and trophies tell of Naismith's impressive career to date.
He first joined Stewarton Annick when he was six years old, and in a sense he has never left this small corner of Ayrshire where he grew up.
Like his friends, he played for each of the age groups, and his dad even became a volunteer helper, but Naismith alone went on to have a professional career at the top level in Scotland and England. He has never been lost to the egotism or distractions of the game, though.
Naismith returned to The Centre to talk about his backing of the team, which involves financial support and also raising awareness, since the jerseys will bear the name of Dyslexia Scotland.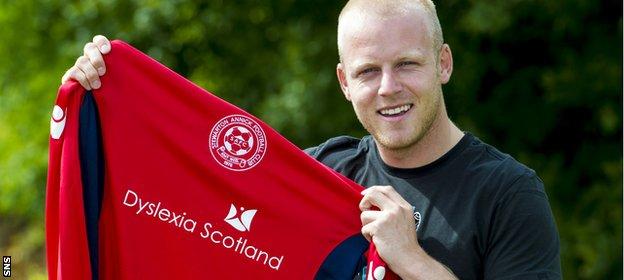 Naismith is an ambassador for the charity, using his own experiences with the condition to inform his work.
And the backing of Stewarton Annick is an opportunity to acknowledge two of the most significant influences of his childhood.
One shaped Naismith's personality, since he refused to allow dyslexia to restrict his learning, and the other developed his football skills.
"I was six year old and kicking a ball about the streets," Naismith said. "My mum and dad noticed an ad in the paper, so I came to this hall to play. It was a great set up and it gave me the foundations for where I've gone today. I've got less hair [now], that's about it.
"There is a lot of good football clubs around and the biggest thing for them is the guys who run them and give up all their time.
"I know when my dad was doing it, it's a lot of hours during the week to set things up, do fundraising. I'm sure there will be a few more stars coming through in the next few years."
Naismith still has ties to the local area, and spent time back in Stewarton during the summer with his partner and their baby daughter.
He will return to pre-season training with Everton enthused by the World Cup.
The 27-year-old has watched teammates thrive, such as Tim Howard the USA goalkeeper.
Others have had mixed experiences. Romelu Lukaku's form was patchy as Belgium reached the quarter-finals, and the likes of England's Phil Jagielka and Leighton Baines will return unfulfilled by the tournament.
There have been flaws - some teams over-relying on individuals, and some of the major European nations suffering a collective lapse in form and accomplishment - but the tournament has never failed to captivate.
For Naismith, it has also provided a form of motivation, since un-fancied teams such as Costa Rica and the USA showed that major nations can still be undone by a combination of shrewd tactics and unreserved commitment.
Scotland travel to take on Germany in September in their opening Euro 2016 qualifying match. And seeing the progress of Joachim Loew's Germany at the World Cup has merely confirmed to Naismith the scale of the challenge that Scotland face.
"I've watched as much as I can," he said. "When you've got a young baby, the 11 o'clock games are a killer.
"German club sides as well as the national team have been at the top of the pile for a few years now. So we knew it was going to be a test.
"Going into the World Cup [in Brazil], the European countries have probably got a disadvantage with the climate, but Germany have not looked out of place, and have arguably looked the best team overall.
"There always is [a sense of missing out]. All the boys that aren't there are gutted, [and talk about] how amazing it would be to be there. When you go back to training, you'll be asking the boys who are there what was it like. We've just got to look forward. In the last 18 months, [Scotland] have progressed very well. We've got to believe.
"It definitely is do-able. The first thing is the Euros, we've got to concentrate on that. We want to be those players at the tournament in two years' time."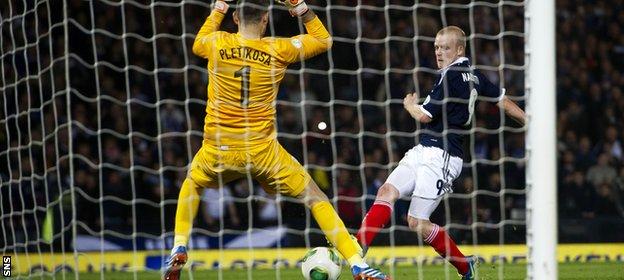 Naismith has watched 18-year-old Ryan Gauld leave Dundee United for Sporting Lisbon this summer, and his Scotland teammate Ross McCormack move from Leeds United to Fulham for £11m, making him the second most valuable Scot after Steven Fletcher, who joined Sunderland for £12m two years ago.
Naismith believes it is expecting too much of Gauld for the Scotland team to be built around him at such a young age, and that McCormack will not be fazed by the price tag, which is the highest fee that a Championship side has paid for a player.
He has maintained his lifelong interest in Rangers, too, and expects his former teammates Kris Boyd and Kenny Miller to not only thrive on their return to Ibrox, but also help to develop and improve some of the younger players in the squad.
His focus is, however, on the present and the season ahead with Everton, who only narrowly failed to qualify for the Champions League last term.
"I don't think we were too far away last season, with three or four games to go we were right in the mix for Champions League qualification," Naismith added. "It's slightly tougher [this season], because we've got [Europa League] football as well.
"It will be interesting to see who we sign this summer, if we can bolster the squad and can really put in a challenge."