Where else can shinty make a breakthrough?

By Gary Innes
Fort William shinty wing centre
Last updated on .From the section Scotland2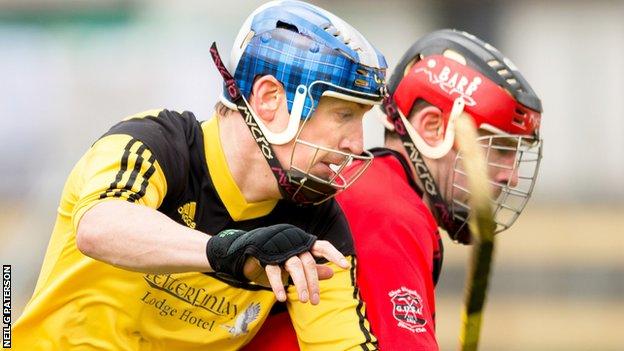 Having spent the last few days submerged in the Glasgow 2014 Commonwealth Games, the city has never looked nor felt so good to be in and around.
From the travelling supporters and spectators to our own home grown talent, it has been an incredible time for Scotland and in particular for the city of Glasgow.
With the games highlighting Scotland and its sports and sportsmen, I have found myself answering a few questions regarding shinty of late, with the emphasis being on: "How do you get other countries interested in shinty?"
This got me thinking.
Of course I'd personally love to see more countries playing our sport, however we haven't even quite managed to get each corner of our own wee country playing yet.
Until we manage to establish and sustain clubs, from top-to-bottom, east and west of Scotland, the aspiration that shinty could compete at the Commonwealth, or even the Olympics, may still be a little unrealistic for Rio or the Gold Coast!
Shinty is already making small waves in pockets of England and having personally played many years ago with Fort William against the French in Le Havre, it will I'm sure come as no surprise to you that the sport is played a little outside of Scotland.
Within the last few years however we have witnessed the sport go further afield with new clubs sprouting up in countries such as the USA and most recently Russia. With the internet so readily available worldwide, getting the right equipment and advice to the new clubs has never been easier.
Having our shinty-hurling compromised rules international each year against the Irish is a fantastic way of demonstrating and showcasing our game to a wider audience.
However, as I already mentioned, with two different sports coming together the word compromised has to be used as each sport has to make sacrifices in their rules to make it work.
So where's next in the world for shinty?
It's fantastic that the sport is still growing and the more countries that pick up the caman the better. However, first and foremost let's get all our kids and grandkids playing shinty here in Scotland before we worry about taking on the rest of the world.
Safe travels to all clubs and supporters this week.